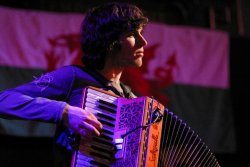 Mabon is the Celtic music of accordionist Jamie Smith brought to life through the energetic performances and breathtaking playing of some of the best musicians in the folk scene today.
Mabon has recently expanded into a seven-piece band, introducing flute (Calum Stewart - Young Scottish Musician of the Year 2007 Finalist) and bodhran (Will Lang – BBC Radio 2 Young Folk Awards Finalist 2005) to a line-up comprising fiddle (Oli Wilson-Dickson – Newfolks, Szapora!), accordion, acoustic guitar, drums and bass. The result is a unique and invigorating take on Celtic music – a big stage sound and performance that firmly retains the essence of the traditional music, with the ability to both raise the roof off the festival dance house and keep the concert hall crowd glued to their seats.
With the new line-up comes a new album. Recorded in Mabon's homeland of Wales, OK Pewter is an outstanding achievement in folk music that promises to be an important release in the genre. The album has already earned the group appearances at top folk festivals including Cambridge and Sidmouth and will be available in stores and online from spring 2007.
Mabon's musical roots lie deeply in the traditional music of its Celtic heritage, which provides the inspiration and the foundation for talented accordionist/composer Jamie Smith's original brand of new interceltic music. Whereas many contemporary folk groups endeavour to push forward the boundaries, Mabon simply ignore them, creating music purely for music's sake and in a manner that not only pleases themselves, but all who watch them play.