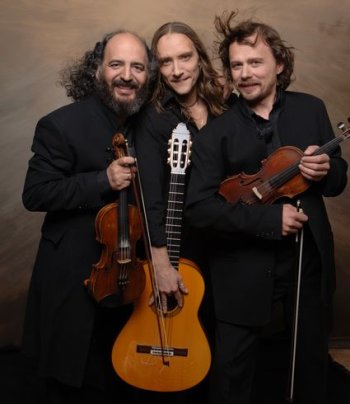 Sergey Erdenko (Violin/Lead vocals) was born in Khabarovsk, Eastern Siberia, in 1958. When he was five Sergei began to learn the violin. His first teacher was Oleg's grandfather, Dmitry Ponomarev, who was then a dean at the Khabarovsk College of Music. At the age of nine Sergei moved to Samara on the Volga, where he attended music school and college, developed an interest in theatre and formed a musical group with his twin sister. After graduating Sergei played for a year in the symphony orchestra conducted by Gennady Provatorov. He then entered the Theatre Academy in Moscow and joined the Moscow gypsy theatre ROMEN. After finishing Theatre Academy, Sergei joined Mark Razovsky's acting company and performed as a musician and actor, receiving great acclaim for his roles in GAMBRINUS by A.Kuprin and FATHER AND SON by F.Kafka. Both productions were staged in Europe and America, as well as in Moscow.
Georgy Osmolovsky (Violin/Vocal) was born in 1961 in Moscow. When he was 6 years old he set about studying the violin and singing in the Moscow Musical Academy for talented children. At 10 years old he made his public debut. While studying classic music as a student of the Moscow Music Academy he started taking an interst in old Russian folk music and jazz. For the last 10 years Georgy has been an artist in the famous Russian group "Folk-Opera" (led by Boris Bazurov), taking part in the biggest international jazz-rock festivals and recording 6 CD's and some sound tracks for films. Step by step he has become involved with gypsy music, working with all the best Moscow gypsy musicians who dubbed him "golden" because of his skills and professionalism.

Michael Savichev (Guitar/Vocal) was born 16 of March 1971. He finished the musical college and studied in the Novosibirsk Conservatorium as a classic guitarist. His teacher was professor U. P. Kuzin. Synchronically with education he creates the fusion-jazz band called "UG" (this name means South) and make experiments with different styles, sequencing classic music with jazz and acousti folk music. In 2000 he met with the Spanish gypsy flamenco band of Tomas de Madrid, that came for the tour to Siberia. The Spanish musiciants heared the music of Michael and invited him to graduate in Spain. He graduated in Spain more then a year, learning to play flamencofrom the original sources - in Silva and Cordova, playing with the best Spanish gypsy musiciants, sequencing in his style Russian and Spanish traditions. The inviting of Michael Savichev to "Loyko" became a start of a new period of the guitarist, because the gypsy music of Spain and Russia has some similar features, the main of those features is a feeling of the sound and the amotional sequence of music and artist.

Loyko band was established in 1990 by Sergey Erdnko (originally as a duet with Igor Staroselzev). It can be called a music laboratory. During the existance of the band (almost 14 years), many high-class musiciants played in it, as Oleg Ponomarev (violin), Vadim Kulitzkiy (guitar), Leonsia Erdenko (vocal, percussion), Alexey Bezlepkin (guitar); each one influed the development of the music style of Loyko. In all the times the gypsy music from Russia was the base of the style of the band. Frequent tours, uninterrupting communication on concerts and fesivals gave Loyko many ideas from Celtic, traditional Romanian and Hungrian and classic music. The new variant of Loyko, in which Sergey Erdenk, George Osmolovskiy and Michael Savichev takes part, is a result of a long evolution of the band. Musiciants creates new compositions by themselves, using all the experience of the band. The main direction of the work of a new Loyko is writing they own compositions.