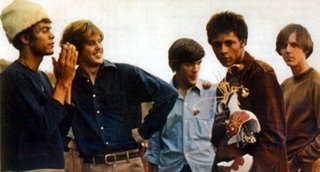 Love was an American rock group of the late 1960s and early 1970s. They were led by singer/songwriter Arthur Lee who wrote most of the songs, although some of their best known songs were written by Bryan MacLean. One of the first racially diverse American pop bands, their music reflected different influences, combining elements of rock and roll, garage rock, folk and psychedelia. While finding only modest success on the music charts, Love would come to be praised by critics as one of the finest and most important American rock groups of their era. Their third album Forever Changes (1967) is generally regarded as their masterpiece.

Today, the band's critical reputation exceeds the limited success they experienced during their time; their 1967 album Forever Changes is held in particularly high regard and often appears on lists of the best rock albums of all time. The band's influence extends beyond the realm of 1960s psychedelia to such punk and post-punk bands as Television Personalities and The Jesus and Mary Chain, whose William Reid wore a Love t-shirt in his band's video for "Head On" from their Automatic album. The Damned covered "Alone Again Or" on the album Anything, and the Swedish band The Hellacopters covered "A House Is Not A Motel". Love have also influenced many 1960s-inspired Top 40 UK acts, including The Stone Roses, The Bluetones, Shack, The Stands, Primal Scream, and Ricky, whose mini-album You Set The Scene was named after a song on Forever Changes.

In tribute, Led Zeppelin's Robert Plant cites Forever Changes as one of his favorite albums ever. Jim Morrison's 1967 personal biography for Elektra listed Love as one of his favorite bands. A tribute album We're All Normal and We Want Our Freedom - A Tribute to Arthur Lee and Love was released in July 1994.