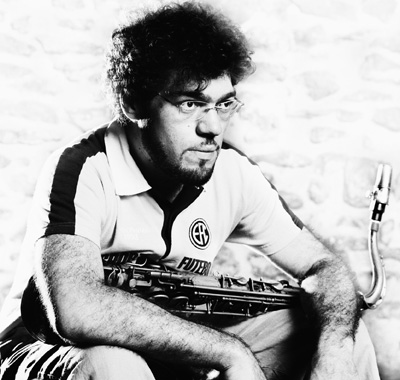 Fire is the first part of a project conceived by Julien Lourau. The second part, Forget, will be released a bit later this year. The themes of both albums result from the same session during which the saxophonist recorded numerous new compositions on his hard disk. Some of Fire tunes will be presented in a "more than alternative" version in Forget. Especially, after having recorded hours of music, Julien Lourau decided to present two different aesthetics. In Fire, colours and atmospheres are being emphasized. The saxophonist uses more effects to be melted into collective movements. In Forget, the leader will play more, have more choruses. During this studio meeting, the musicians rehearsed little in order to keep a maximum of spontaneity.
"Fire and Forget": Julien Lourau did not choose at random the title of the opening theme in his new album and for the concerned project. The slogan of the English artillerymen when they open fire rings like a typically English black humour (to which reply the final "Messieurs les Anglais, tirez les premiers"). According to Julien Lourau, "there is a bit of irony in bringing together these two words "fire" and "forget", a double meaning also referring to our time: the propaganda to justify the war in Iraq and Afghanistan, then the forgetting. The quickly change for something else". Beyond references to the current world scene, Fire proposes a lucid expression in a blurred time. Refusal of cynicism, commitment, collective adventure: all of this is also at stake in this new album. At the beginning, Julien Lourau thought of proposing a continuation of The Rise. But as he started to work tracks of this new record on a Fender Rhodes, the sound of the instrument led him to reconsider his plans. Fire will be more topical. Bojan Z plays the keyboards, Eric Lohrer the guitare, Daniel Garcia Bruno the drums, Vincent Artaud the bass.
As a result, Fire synthetizes today's currents and preceding chapters of the saxophonist's life (he just completed the music of a short film: l'Evangile du Cochon Créole by the Haitian filmmaker Michelange Quay). Among climatic breakaways, biting riffs, spoken words, Central European music discovered thanks to his partner Bojan Z, latino rhythms: this album goes deeper into the mixing of ideas without distancing from the free experimental process wished by the band leader. The studio remained an open space. Open to passing guests likely to enter the dance. Especially open to the leader's pluralist musical and cultural influences: Mina Agossi, John Greaves (Robert Wyatt, contacted, declined the invitation, "but John is anything but a second choice", Julien Lourau precises), Allonymous, Sebastien Quezada, Malik Mezzadri, they all contributed with their words and voices to these adventurous, but always accessible and generous tunes. His buddy Jef Sharrel produced the whole with very little post-production in order to give free rein to the inspiration of these tunes.
Born in 1970, Julien Lourau attentively listened to contemporary currents. Like a whole generation which grew up listening to fusion bands of the '70's and the '80's, the saxophonist naturally evolved in mixed sounds of his time. His first experiences alongside Noël Akchoté and the Bosnian pianist Bojan Zulfikarpasic in Trash Corporation actually reflect a creative ardour, a refusal of dogmas. We may find in it free influences, Ornette Coleman's harmolody, a rock energy and a lot of freedom. In 1992, Julien Lourau wins the first soloist prize in La Défense. He then sets up his Groove Gang, in which we find again Daniel Casimir (trombone), Nicolas Genest (trumpet), Daniel Garcia-Bruno (drums), Jules Bikoko Bi N'jami (bass)…The combo funk achieves a first explosive album. Groove Gang (1995) chooses to play an organic, wordly music, always swift to unite winds coming from different horizons around a strong beat. Appreciated for his sound, his solid way of playing, alloy of a rhythmic power and a sensitivity (for instance, in his performance as a sideman on albums of the great Abbey Lincoln), Julien Lourau has been requested by Henri Texier, Marc Ducret. After a more urban second part of the Groove Gang's adventures, City Boom Boom (1998), with Minino Garay (percussions), Malik Mezzadri (flute), voices (particularly Laïka Fatien), Dj Shalom, concerts attracting a more and more numerous young audience, Julien Lourau dissolves the band. He just wishes to do something else. But friendships remain and the gang partners often interfere in his other attempts.

In 1999, Julien Lourau turns to jungle rhythms, taking for faraway tours the drummer Maxime Zampieri, the young bassist Sylvain Daniel, the keyboard player Stephanus Vivens, the Tamul musician Dondieu Divin, the programmer Jeff Sharrel, Minino Garay and Malik Mezzadri, two only survivors of the Groove Band. Gambit (2000) synthesizes this immersion in new sounds. Because he does not want to freeze in one aesthetic, he then refocuses on the composition of more classical and more elaborated themes, influenced by his trips to Latin America and his numerous encounters. The Rise (2002) is being felt as the album of his maturity. From the freedom of his concerts at the Instants Chavirés at the beginning of his career to the rigour of standards offered a few years later at the Sunset, Julien Lourau did not renounce any source allowing him to enrich his musician's palette. This new chapter in an already rich and curious career once again testifies to it.