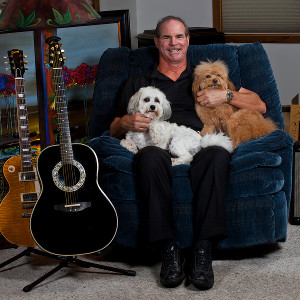 At the age of 13 I heard songs by "Cream" with Eric Clapton and new that I wanted to be able to make those sounds come to life on a guitar. I listened to: Eric Clapton, Carlos Santana, B.B. King, Albert King, Albert Collins and began to develop my own style. I acquired an interest in Jazz, with such influences as; Larry Carlton, John Mclaughlin and Larry Coryell. I would say that I have fused the Blues/Jazz/Rock genres into my own thing. I certainly consider my guitar as a tool by which I can express my emotions and ideas. I enjoy creating music with energy and power while keeping in mind the need for musical congruity. The key to my ability to articulate my musical ideas, is utilizing the great musicians that I work with along with having a great recording engineer.

As a guitarist, I have been influenced by such greats as; Carlos Santana, Eric Clapton, Albert King, Frank Zappa , Jimmy Hendrix and John Mclaughlin. My goal is to articulate my emotions through the guitar. I surround myself with great musicians and recording engineer. I sincerely appreciate the people that take the time to listen to my music.

My band members and recording engineer make it happen!

Live In Geneva IL. and Fontana WI. Near Lake Geneva.