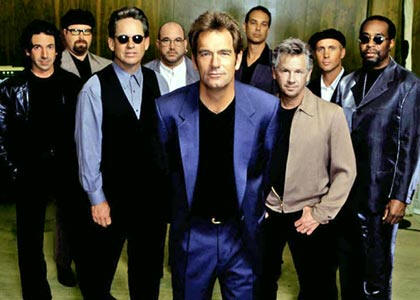 Hugh Anthony Cregg III was born July 5, 1950 in New York City, and grew up in Marin County, California. In 1967, preparing to graduate from New Jersey prep school The Lawrenceville School, Huey applied and was accepted by Cornell University, in Ithaca, NY - but on the advice of his father he decided to wait enrolling in college, and instead he headed for Europe. As he hitch-hiked around the continent he learned to play the harmonica whilst waiting for rides. Huey became an accomplished blues player, and gave his first concert in Europe, earning $150 for it, before returning to America. On his return Huey entered Cornell (he had scored a perfect 800 on his Math SAT), joining the engineering program. While there, he lived in a large house with 5 other people (Ken Carrier, Peter Grenfell, John Stockman, Judy Mustille, and Bill McGrath) for a period of time. Some other friends of his were Lance and Larry Hoppen, who later played with Orleans and King Harvest and also Wells Kelly who played with some well-known groups before he died. Dave Robinson (known as DR) was also a regular, as well as Eddy Tuleja (sp?). They all hung around a cafeteria at Cornell known as Noyes Lodge, the 'hip' hangout at the time. He soon lost interest in college though. Huey signed up with a band called 'Slippery Elm', and in December 1969 he dropped out of Cornell, moving back to the San Francisco area - his aim was to continue playing music, but along the way he also tried other fields of work including landscaping, carpentry and natural foods. In 1971 Huey joined the Bay Area band 'Clover', and around this time he changed his name to 'Huey Louie' after two of Donald Duck's nephews (and this eventually evolved into 'Huey Lewis'). Sean Hoper joined the band in 1972 - other members of the band were John McFee, Alex Call, John Ciambotti, Mitch Howie, and Mickey Shine. Huey played harmonica with the band, and only sang lead vocals on a few tunes. Clover's main rival band (which developed into a friendly rivalry) were Soundhole (Johnny Colla, Mario Cipollina and Bill Gibson were band members).
In 1976, after playing in the Bay Area with limited success, Clover went to LA - they had their 'big break' in a club there when their act was caught by Nick Lowe (who became one of British rock's leading lights, and a good friend of Huey's) - he convinced Clover to travel to Britain with him. But Clover were not successful in Britain, they arrived just as their folk-rock sound (known as pub rock in Britain) was being replaced by punk rock. They did two albums for the British Phonogram label, but they both bombed. Huey went on vacation, meanwhile Clover backed Elvis Costello on his debut album 'My Aim is True'. The band returned to California, McFee joined the Doobie Brothers, and Clover broke-up. In 1978 Huey was playing at Uncle Charlie's, a club in Corte Madera, California, doing the 'Monday Night Live' spot, along with future News men. After recording the song 'Exo-Disco' (a disco version of the theme from the film 'Exodus') Huey got a 'singles contract' from Phonogram Records, and Bob Brown became Manager. Huey Lewis and the American Express were formed in 1979, with the same line-up as the News - the band played a few gigs (including an opening for Van Morrison), but on Brown's advice they changed their name again - and Huey Lewis and the News were created.

As well as doing lead vocals and playing harmonica with the band, Huey also writes or co-writes many of their songs. Outside the band, his interests include golf, baseball, fishing (salmon and trout) and owning a racing car. Huey has made appearances in several movies. The first was a cameo in Back to the Future (1985) (the band also did two songs for the soundtrack), in which Huey appeared briefly as a teacher judging bands for a school dance. The second appearance was in Shortcuts (1993). Huey had a much more significant role and a very memorable scene in it. The movie had a name-filled cast, and was much like Pulp Fiction in that many smaller stories connected together at the end. Also, he appeared in the first few minutes of the movie Sphere (1998) as the helicopter pilot. After that role, he had a large part in Shadow of a Doubt (1998) which appeared on Showtime. He was uncredited in Dead Husbands (1998) as the husband killed during the opening credits.

Duets (2000) was probably his largest role in a fairly high-profile movie. In it he played Gwyneth Paltrow's father, Ricky Dean, a Karaoke-hustler. Duets led to the smash-hit duet "Cruisin'" (a cover of the Smokey Robinson classic) with Paltrow. Next we should see Huey in a film titled .com for Murder.

He is married and lives in Ross, California (in Marin California just north of San Francisco), and has two children - Kelly (born 1983) and Austin (born 1985).