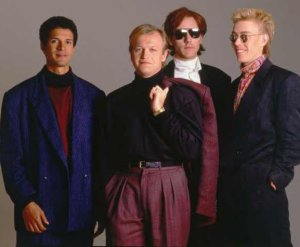 At the beginning of their career, Level 42 was a jazz-funk fusion band, following in the footsteps of such pioneers as Stanley Clarke. By the end of the '80s, they were a pop-R&B band with a number of hit singles to their credit. Featuring Mark King (bass, vocals), Phil Gould (drums), Boon Gould (guitar), and Mike Lindup (keyboards), the band formed in 1980.
Before they released their first single, "Love Meeting Love," the band was pushed to add vocals to their music in order to give it a more commercial sound; they complied, with King becoming the lead singer.
Released in 1981, their self-titled debut album was a slick soul-R&B collection that charted in the U.K. Top 20, resulting in the release of The Early Tapes by their former record label, Polydor.
Level 42 had several minor hit singles before 1984's "The Sun Goes Down (Living It Up)" hit the British Top Ten. Released in late 1985, World Machine broke the band worldwide; "Lessons in Love" hit number one in Britain and "Something About You" hit number seven in America. Their next two records, Running in the Family (1987) and Staring at the Sun (1988), were a big success in the U.K., yet only made some headway in the U.S.
Both of the Gould brothers left the band in late 1987; they were replaced by guitarist Alan Murphy and drummer Gary Husband. Murphy died of AIDS-related diseases in 1989; he was replaced by the renowned fusion guitarist Alan Holdsworth for 1991's Guaranteed. The band followed Guaranteed in 1995 with Forever Now.
Stephen Thomas Erlewine - All Music Guide