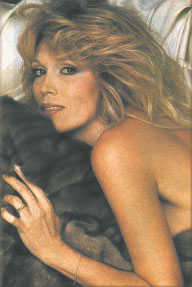 Born: 1939 or 1941 or 1945 or 1948 - Birth Place: Saigon or Hong Kong. Amanda Lear has always been very mysterious about her youth. She was probably born Alain Tapp in Saigon (or France) in 1939 - but it might have been Hong Kong in 1941 or 1945 or even (as she now claims) November 1948 - of mixed parentage, at various times she's claimed British, French and Indonesian fathers, and English and Russo-Oriental mothers. The only thing certain is that she was destined to become another of the gorgeous young transsexuals to emerge in France during the '60's, and was later was an icon of the 1970s'.
After an education [supposedly] in Switzerland and England, by 1959 at latest Amanda had moved to France - still a tall, gangly and rather Asian looking boy. Radically transformed by hormones and a nose job, her looks attracted the eye of Salvador Dali and she was to became a regular companion for many years. She first became publicly noticed in 1960 as an exotic showgirl and stripper known as Peki d'Oslo.

In 1963 she had her sex change operation, carried out in Casablanca by Dr Bourou it was probably paid for by Salvador Dali. She soon afterwards moved to England where she soon became part of the trendy "Chelsea Girl" set. Her hair now a bleached blond, in 1965 she was signed by a model agency and was soon catwalking for top designers and appearing on magazine covers, but her modelling career was eventually to be hampered by rumours of her transsexuality.
In early 1973 Bryan Ferry saw the supposedly 25-year old (making her pre-teen in her showgirl days!) Amanda on stage modelling a collection for fashion designer Ossie Clarke, and invited her to feature as the cover girl for Roxy Music's new album "For Your Pleasure". Amanda was soon mixing with the likes of the Rolling Stones and Elton John, and in 1974 met David Bowie and became one of several beautiful transsexual women (Romy Haag was another) featuring large in his love life at that time, indeed they lived together for a year, and she became part of the "Ziggy" stage act.
David Bowie helped start off Amanda's music career, and in the late 1970's she became a huge disco star on mainland Europe in her own right, her best albums probably being the 1978 "Sweet Revenge" and the 1980 "Diamonds for Breakfast". In the '80's and '90's she successfully made new career's both as a painter and as a TV host, although also still recording and performing her music. After her marriage to Frenchman Alain-Phillippe Malagnac in 1979, she began to vigorously deny her transsexuality and as supposed proof posed nude for several men's magazines. While this certainly proved to her delighted fans that she still had an amazing body although probably in her '40's, her case was always unconvincing given indirect evidence such as her masculine sounding voice, lack of children, failure submit to any medical tests, lack of any offered documentation (e.g. her birth certificate); and more direct evidence such as old photographs and the statements of those (particularly April Ashley, and arguably David Bowie and Salvador Dali) who knew her in the 1960's & 1970's to be a transsexual.

Tragedy struck Amanda in December 2000 when her home in France burnt down, killing her husband and destroying many of her and Dali's paintings.