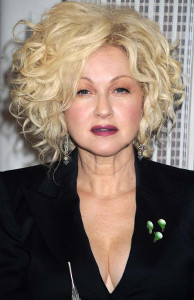 Cynthia Ann Stephanie "Cyndi" Lauper (born June 22, 1953) is an American singer, songwriter, actress and LGBT activist. Her career has spanned over 30 years. Her debut solo album She's So Unusual (1983) was the first debut female album to chart four top-five hits on the Billboard Hot 100—"Girls Just Want to Have Fun", "Time After Time", "She Bop", and "All Through the Night" earned Lauper the Best New Artist award at the 27th Grammy Awards in 1985. Her success continued with the soundtrack for the motion picture The Goonies and her second record True Colors (1986). This album included the number one hit of the same name and "Change of Heart" which peaked at number 3. Since 1989, Lauper has released nine studio albums and participated in many other projects. Her most recent album, Memphis Blues, became Billboard's most successful blues album of the year, remaining at #1 on the Billboard Blues Albums chart for 13 consecutive weeks. In 2013, Lauper won the Tony Award for Best Original Score for the Broadway musical Kinky Boots, making her the first woman in history to win the composing category by herself. She became the first artist in over 25 years to top the dance charts with a Broadway tune. In 2014, Lauper was awarded the Grammy Award for Best Musical Theater Album for the cast recording.

Lauper has established herself as a pop icon winning awards at the Grammy, Emmy, Tony, New York's Outer Critics Circle, MTV VMA, Billboard, and AMA awards. Lauper won the inaugural Best Female Video prize at the 1984 VMAs for Girls Just Wanna Have Fun. This music video is recognized by MTV, VH1 and Rolling Stone as one of the greatest ever music videos. She is featured in the Rock and Roll Hall of Fame Museum's Women Who Rock exhibit. Her debut album is included in Rolling Stone's list of the 500 Greatest Albums of All Time, while Time After Time is included in Vh1's list of the 100 Best Songs of the Past 25 years. VH1 has ranked Lauper No. 58 of the 100 Greatest Women of Rock & Roll. Lauper is also one of only twenty artists to achieve "GET" status by winning competitive Grammy, Emmy and Tony awards. To date she has sold over 50 million records and 20 million singles. Lauper has also been celebrated for her humanitarian work, particularly as an advocate for gay and transgender rights in the United States. Her charitable efforts were acknowledged in 2013 when the singer was invited as a special guest to attend President Barack Obama's second-term inaugural. Lauper has been an LGBT rights supporter throughout her career, campaigning for equality through various charities and gay pride events around the world. Lauper stated that she became involved in gay rights advocacy because her sister Ellen was a lesbian and because Lauper herself was passionate about equality. Lauper's sister Ellen was a role model, actively participating in charity work in the gay community, including working at a clinic for AIDS patients.

The title track of Lauper's second album, "True Colors", became an anthem of acceptance and inspiration, particularly for the gay community. Throughout the 1980s and 1990s, Lauper performed at pride events throughout America. Lauper was one of the earliest female artists to harness MTV. She was described by All Music's Lindsay Planer as an iconoclastic vocalist who revolutionized the role of women in rock & roll. Over her thirty year career, she influenced multiple recording artists including Alanis Morissette, Britney Spears, Christina Aguilera, India Arie, Jewel, Jill Scott, Joan Osborne, Kasey Chambers, Maximum Balloon, No Doubt, P!nk, Sophie B. Hawkins and Vanessa Paradis. Other artists influenced by Lauper include Nicki Minaj, Kelly Clarkson, Lil' Kim, Lady Gaga, Little Boots and Yelle. Katy Perry stated that Lauper was her 'idol' growing up.

Stephen Thomas Erlewine of Spotify notes that She's So Unusual and distinctive idiosyncratic appearance "helped popularize the image of punk and new wave for America, making it an acceptable part of the pop landscape". Rolling Stone magazine stated that her debut was "arguably the first time explicitly punk-influenced elements were front-and-center on the pop landscape, both musically and via Lauper's Patrick Lucas-styled ensembles, dressing up the droll Reagan decade in feminist chutzpah." The album ranked at #487 on Rolling Stone '​s list of The 500 Greatest Albums of All Time in 2003. The album ranked at #41 on Rolling Stone '​s list of Women Who Rock: The 50 Greatest Albums of All Time in 2012. Rolling Stone's review stated, "A wild and wonderful skyrocket of a voice... Lauper's extraordinary pipes connect with the right material, the results sound like the beginning of a whole new golden age." Thirty years after its release, the album was praised as 'everlasting' and a 'once in a lifetime album'.

Her iconic cover and re-arrangement of "Girls Just Wanna Have Fun" established her as a 'a feminist idol'. Sheila Moeschen argued that the song 'embodied a different kind of feminine aesthetic that ran counter to the raw sensuality and edginess of her contemporaries like Madonna or veteran rockers Joan Jett and Pat Benatar' that introduced 'a nation of women to a new kind of female role model, one that celebrated difference and encouraged playfulness in self-expression'. John Rockwell wrote that the song was "a giddily upbeat attestation to female pleasure that simultaneously made a feminist statement, fulfilled male fantasies and—especially in its often-played video version—evoked the warmth of family and friends." The video for "Girls" won the first-ever Best Female Video prize at the 1984 VMAs. It featured a multicultural cast of women with teased, sideways hair and neon eye shadow, singing alongside Lauper. The video is one of the first to feature women of multiple races. She was the first woman to have four Top 5 hits from a debut album, the first woman to win the composing category solo during the 2013 Tony Awards and one of only four women to have won competitive Grammy, Emmy and Tony awards.

Lauper's song "Time After Time" has been covered by over 100 artists and was ranked at #22 on Rolling Stone '​s 100 Best Songs of the Past 25 Years and at #19 on VH1's 100 Greatest Songs of the 80s and in 2008 was given the BMI Millionaire Award for 5 million spins on US radio. "She Bop", the third single from She's So Unusual made history as the first and only top ten song to directly mention a gay porn magazine. The single was included in the PMRC's "Filthy Fifteen" list that led to the parental advisory sticker that marked recordings thought to be unsuitable for young listeners. In their 1984 retrospective Rolling Stone listed She Bop as the 36th best song of that year, praising it for its unusual playfulness regarding sexuality. Her song "True Colors" is recognized by many as an LGBT anthem. Her many projects supporting LGBT rights made her a gay icon.