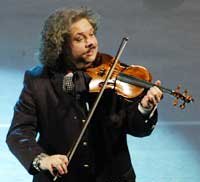 Roby Lakatos, the "devil's fiddler", is a gypsy violinist from Hungary. He is renowned for his mix of classical music with Hungarian-gypsy music and jazz themes.

Lakatos was born in 1965 into the legendary family of gypsy violinists descended from Janos Bihari, "King of Gypsy Violinists". He was introduced to music as a child and at age nine he made his public debut as first violin in a gypsy band.
His musicianship was learnt not only with his own family, but also at the Béla Bartók Conservatory of Budapest, where he won the first prize for classical violin in 1984. Between 1986 and 1996, he and his ensemble played at "Les Ateliers de La Grande Ile" in Brussels.
He has collaborated with Vadim Repin and Stéphane Grappelli. It is claimed Lakatos' playing was greatly admired by Sir Yehudi Menuhin, who always made a point of visiting the club in Brussels to hear him.
In March 2004, Lakatos appeared to great acclaim with the London Symphony Orchestra in the orchestra's "Genius of the Violin" festival alongside Maxim Vengerov.