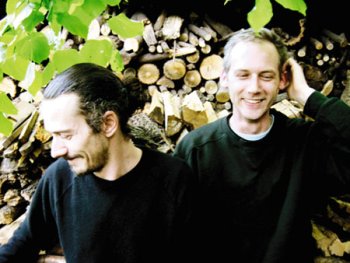 Kruder & Dorfmeister, named after members Peter Kruder and Richard Dorfmeister, is an Austrian duo most known for their downtempo-dub remixes of pop, hip-hop, and drum and bass songs. Their mixes are usually flavored with sampler-processed vocals, deep bassline dub, trip-hop elements, bossa grooves and smoothly-shaped echoes to achieve their unique sound. Some of their better-known works include "High Noon," "Original Bedroom Rockers," and remixes of Madonna's "Nothing Really Matters," Depeche Mode's "Useless," Count Basic's "Speechless," Roni Size's "Heroes." Many of their remixes are collected on the double album The K & D Sessions.
Although best known internationally for their remixing work, the duo gained their primary reputation in Europe for their live DJ performances and DJ Kicks album. Kruder and Dorfmeister own their own record studio, G-Stone Records in Vienna, through which they release many of their own albums, as well as others by Stereotyp, DJ DSL, Rodney Hunter, Urbs, Makossa & Megablast, and Sugar B./Dub Club.
The cover of Kruder & Dorfmeisters first Album, "G-Stoned", bears a black and white photograph of both artists with sans-serif title lettering closely mimicing the cover of the renowned 'Bookends' Album of the famous folk duo Simon & Garfunkel. This can be considered both a humorous 'tip-to-the-hat' towards the acclaimed quality of Simon & Garfunkels music aswell as a humorous statement on Kruder & Dorfmeisters perception of their own music, style and their claim for their own standing in modern popular music as a timeless classic duo.
Tosca is an electronic music project of Richard Dorfmeister and Rupert Huber. After the start of Kruder & Dorfmeister in 1994, Tosca became the second project in which Richard Dorfmeister took part, with Opera being released in 1997. It was the first album that Tosca released with G-Stone Recordings.