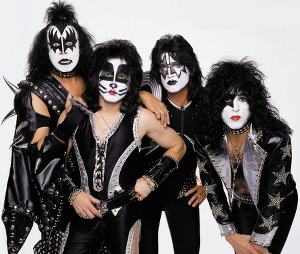 Kiss (more often styled as KISS) is an American hard rock band formed in New York City in January 1973 by Paul Stanley and Gene Simmons. Well known for its members' face paint and stage outfits, the group rose to prominence in the mid to late 1970s with their elaborate live performances, which featured fire breathing, blood spitting, smoking guitars, shooting rockets, levitating drum kits and pyrotechnics. Before arriving at their current lineup, the band went through some lineup changes, with Stanley and Simmons the last two members of the original lineup of the band. Counting the 1978 solo albums, Kiss has been awarded 28 gold albums to date, the most of any American rock band. The band has sold more than 40 million albums in the United States, of which 24 million have been certified by the RIAA and their worldwide sales exceeds 100 million records, making them one of the world's best-selling bands of all time. The original 1973-80 lineup consisted of Paul Stanley (vocals and rhythm guitar), Gene Simmons (vocals and bass guitar), Ace Frehley (lead guitar and vocals) and Peter Criss (drums and vocals).

With their makeup and costumes, they took on the personas of comic book-style characters: Starchild (Stanley), The Demon (Simmons), Spaceman or Space Ace (Frehley) and Catman (Criss). Stanley became the "Starchild" because of his tendency to be referred to as the "starry-eyed lover" and "hopeless romantic". The "Demon" makeup reflected Simmons' cynicism and dark sense of humor, as well as his affection for comic books. Frehley's "Spaceman" makeup was a reflection of his fondness for science fiction and his supposedly being from another planet. Criss' "Catman" makeup was in accordance with the belief that he had nine lives because of his rough childhood in Brooklyn. Due to creative differences, both Criss and Frehley were out of the group by 1982. The band's commercial fortunes had waned considerably by that point.

Buoyed by a wave of Kiss nostalgia in the 1990s, the band announced a reunion of the original lineup in 1996. The resulting Kiss Alive/Worldwide/Reunion Tour was the top-grossing act of 1996 and 1997. Criss and Frehley have since left Kiss again, but the band continues with Eric Singer and Tommy Thayer. Stanley and Simmons have remained as the last two constant members. Kiss has been named in many "Top" lists. They include Number 10 on VH1's '100 Greatest Artists of Hard Rock', 9th on 'The Greatest Metal Bands' list by MTV, number one on Hit Paraders's "Top 100 Live Bands", 56th on VH1's "100 Greatest Artists Of All Time", and 26th on Gibson's "50 Greatest American Rock Bands". On April 10, 2014, Kiss was inducted into the Rock and Roll Hall of Fame, nearly 15 years after becoming eligible.

Kiss have typically been classified under the genres of hard rock and heavy metal throughout most of their existence. Most of their '70s albums, particularly in the period from 1974 to 1977, featured a hard rock or classic heavy metal style. In 1983, with the removal of their trademark makeup, the band began incorporating elements of glam metal into their sound and visual image. Later, in the early 1990s, their sound grew heavier and abandoned the glam metal sound. Since then, the band has stuck to their roots.

Their music is described by Allmusic as "a commercially potent mix of anthemic, fist-pounding hard rock, driven by sleek hooks and ballads powered by loud guitars, cloying melodies, and sweeping strings. It was a sound that laid the groundwork for both arena rock and the pop-metal that dominated rock in the late '80s." Rolling Stone's first critical review of Kiss' music in 1973 described the band as "an American Black Sabbath". "With twin guitars hammering out catchy mondo-distorto riffs and bass and drums amiably bringing up the rear," said RS of Hotter Than Hell, "Kiss spews forth a deceptively controlled type of thunderous hysteria, closely akin to the sound once popularized by the German Panzer tank division." At the same time, Bennington Banner from Rock Music magazine said, "with its members' bizarre, Kabuki-like makeup, studded black leather costumes and arsenal of on-stage firepower – both musical and literal – Kiss represents the most extreme form of hard rock in 1974."