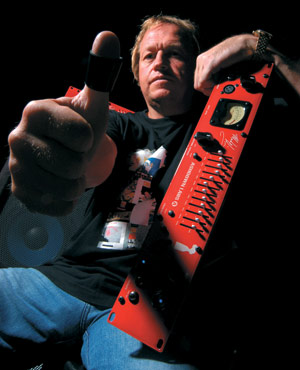 Mark King (born 20 October 1958, in Cowes, Isle of Wight) is an English musician from the Isle of Wight. He is most famous for being the lead singer and bassist of the band, Level 42. In the early 1980s King popularized the 1970s-era slap and pop style for playing the bass guitar by incorporating it into pop music.
King began life on the Isle of Wight, a small island just off the southern mainland coast of England. His father, Raymond King, was a dairyman, and the family lived in a tied dairy house. King recalled in a 2006 newspaper interview [1], "it was post-war, with one brass tap, an outside toilet and a zinc bath in front of the fire." He later lived on the Camp Hill and Albany prison estates on the outskirts of Newport. He attended Kitbridge Middle School where he met his childhood sweetheart Tracey Wilson, later writing a song about her. He then went to Cowes High School.
Originally, King pursued a career as a drummer. His father bought him his first kit for £10, whilst he gained encouragement to pursue a career in music from his music teacher at middle school.
King moved to London at the age of nineteen, subsequently forming Level 42 in 1979 with Mike Lindup and fellow Islanders, brothers Phil and Rowland Charles Gould. Still drumming at this point, when the band began jamming and needed a bass player, King reluctantly took over the role. He went on to make a lead instrument of the bass guitar. It should be noted that he did not intend to take up the role of playing bass, but merely did it by way of necessity. He had lost his drum kit on an ill-fated trip to Austria, having to sell it to pay for a ticket back home. Since Level 42 already had a drummer lined up, King played bass. At one of their first gigs, at the La Babalu club in Ryde, Level 42 were spotted by the head of a small independent record label and signed. The next year they were signed to Polydor and King spent the next nine years recording and touring with the band. The first Top 40 single, "Love Games", was released in 1981, heralding the band's first appearance on Top of the Pops. The big breakthrough came with the release of "The Sun Goes Down (Livin' it up)" in 1983. While in Level 42, King found his bass-playing services in some demand. He was invited by Nik Kershaw to play on his second album The Riddle (1984) and by Midge Ure to play on his albums The Gift (1985) and Answers To Nothing (1988). Level 42 supported The Police in 1981, followed by tours with Steve Winwood in 1986 and Madonna in 1987. In 1986, King and Lindup performed alongside Eric Clapton, Phil Collins, Mark Knopfler and Elton John at a Prince's Trust charity concert. They released the album Retroglide in 2006 and a European tour followed.

In 1984 he released his first solo album, Influences (at the time he needed a deposit to put down on a house - this album gave him that opportunity), followed by One Man in 1998. In 1999 he issued a collection of unused songs in the form of the album 'Trash'; the name hinted at the rough, unpolished nature of the recordings (which were rejected by Eagle Records in favour of the tracks which would ultimately appear on the 'One Man' album). 'Trash' was an historic release as it was issued without the a record company and initially offered to hardcore fans via a low-key guestbook entry, made by King, on www.level42.com. Using an Apple Mac, CD burner and inkjet printer, King manufactured the cd himself and posted it directly to fans, charging £17 plus postage. He hand signed and numbered early copies. Clearly not anticipating the popularity of the album, the initial CDs were numbered as part of a series of 100. Word soon spread of the CD and King eventually shifted in excess of 1,000 copies. In the years following Trash, King repeated the successful 'home-made' formula releasing a string of live recordings including 'Live At The Jazz Cafe', 'Live On The Isle of Wight' and 'Live At Reading Concert Hall' (which despite being performed as a Mark King solo show, was released under the name of Level 42 as King retained the rights to the name shortly before releasing the CD). Despite being contracted to Universal Music imprint W14, King continues to release live shows on his own Summerhouse Record label, of which 2007's 'Retroglide Live' DVD was the first.
Since coming back into the limelight in 1998 with 'One Man' and the supporting UK tour, King has toured consistently. With the exception of 'Trash' he has only issued one new studio album in the 8 year period, September 2006's 'Retroglide' under the Level 42 banner.
In 2007 King is still the Level 42 frontman and plays a number of festival dates with founder band member and keyboard player Mike Lindup. A UK tour is planned for 2008.