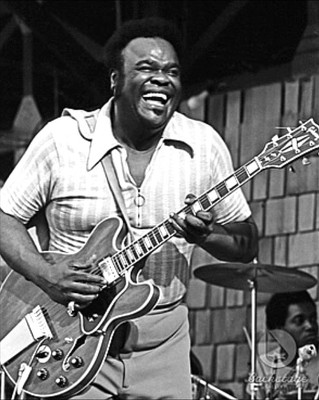 Freddie King (September 3, 1934 – December 28, 1976) was an influential American blues guitarist and singer. He is often mentioned as one of "the Three Kings" of electric blues guitar along with Albert King and B.B. King. Freddie King based his guitar style on Texas and Chicago influences and was one of the first bluesmen to have a multi-racial backing band at live performances. He is best known for singles such as "Have You Ever Loved A Woman" (1960) and his Top 40 hit "Hide Away" (1961). He is also known for albums such as the early, instrumental-packed Let's Hide Away and Dance Away with Freddy King (1961) and the later album Burglar (1974) which displayed King's mature versatility as both player and singer in a range of blues and funk styles. King became an influential guitarist with hits for Federal Records in the early 1960s. He inspired musicians such as Jerry Garcia, Dickey Betts, Stevie Ray Vaughan and his brother Jimmie Vaughan. His influence was also felt in Britain through recordings by blues artists such as Eric Clapton, Peter Green and Chicken Shack. He was inducted into the Rock and Roll Hall of Fame in 2012.

In 1959 King got to know Sonny Thompson, pianist, producer, and A&R man for Cincinnati's King Records and King owner Syd Nathan signed King to the subsidiary Federal label in 1960. King recorded his debut single for the label on August 26, 1960: "Have You Ever Loved a Woman" backed with "You've Got to Love Her with a Feeling" (again as "Freddy" King). From the same recording session at the King Studios in Cincinnati, Ohio, King cut the instrumental "Hide Away," which the next year reached #5 on the R&B Charts and #29 on the Pop Singles Charts, an unprecedented accomplishment for a blues instrumental at a time when the genre was still largely unknown to white audiences. "Hide Away" was originally released as the B-side of "I Love the Woman". "Hide Away" was King's conglomeration of a theme by Hound Dog Taylor and parts by others, such as from "The Walk" by Jimmy McCracklin and "Peter Gunn", as credited by King. The song's title comes from Mel's Hide Away Lounge, a popular blues club on the West Side of Chicago. Willie Dixon later claimed that he had recorded King doing "Hide Away" for Cobra Records in the late 1950s, but such a version has never surfaced. "Hide Away" has since become a blues standard.

After their success with "Hide Away," King and Sonny Thompson recorded thirty instrumentals, including "The Stumble," "Just Pickin'," "Sen-Sa-Shun," "Side Tracked," "San-Ho-Zay," "High Rise," and "The Sad Nite Owl". Vocal tracks continued to be recorded throughout this period, but often the instrumentals were marketed on their own merits as albums. During the Federal period King toured with many of the R&B acts of the day such as, Sam Cooke, Jackie Wilson and James Brown, who performed in the same concerts.

King's contract with Federal expired in 1966, and his first overseas tour followed in 1967. King's availability was noticed by producer and saxophonist King Curtis, who had recorded a cover of "Hide Away," with Cornell Dupree on guitar in 1962. Curtis signed King to Atlantic in 1968, which resulted in two LPs, Freddie King Is a Blues Master (1969) and My Feeling for the Blues (1970), produced by Curtis for the Atlantic subsidiary Cotillion Records.

In 1969 King hired Jack Calmes as his manager, who secured him an appearance at the 1969 Texas Pop Festival, alongside Led Zeppelin and others, and this led to King's being signed to Leon Russell's new label, Shelter Records. The company treated King as an important artist, flying him to Chicago to the former Chess studios for the recording of Getting Ready and gave him a backing line-up of top session musicians, including rock pianist Leon Russell. Three albums were made during this period, including blues classics and new songs like, "Goin' Down" written by Russell and Don Nix.

King performed alongside the big rock acts of the day, such as Eric Clapton and for a young, mainly white audience, along with white tour drummer Gary Carnes for three years, before signing to RSO. In 1974 he recorded Burglar, for which Tom Dowd produced the track "Sugar Sweet" at Criteria Studios in Miami, with guitarists Clapton and George Terry, drummer Jamie Oldaker and bassist Carl Radle. Mike Vernon produced all the other tracks. Vernon also produced a second album Larger than Life with King, for the same label. Vernon brought in other notable musicians for both albums such as Bobby Tench of The Jeff Beck Group, to complement King.

Near-constant touring took its toll on King (he was on the road almost 300 days out of the year), and in 1976 he began suffering stomach ulcers. His health quickly deteriorated and he died on December 28 of complications from that and acute pancreatitis at the age of 42. According to those who knew him, King's untimely death was due to both stress and poor diet (he was in the habit of consuming Bloody Marys in lieu of solid food so as not to waste time when setting up shows).

In 1993 by proclamation from the Texas Governor Ann Richards September 3, 1993, was declared Freddie King Day. This is an honor reserved for Lone Star legends, such as Bob Wills and Buddy Holly. Freddie King placed 15th in Rolling Stone magazine′s list of the 100 greatest guitarists of all time and in 2012, he was inducted into the Rock and Roll Hall of Fame.