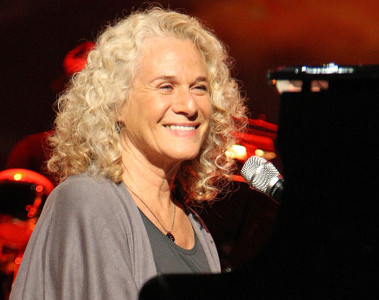 Carole King (born February 9, 1942) is a Grammy Award-winning American singer and songwriter. Her career began in the 1960s when King, along with her then husband Gerry Goffin, wrote more than two dozen chart hits for numerous artists, many of which have become standards, and she has continued writing for other artists since then. King's success as a performer in her own right did not come until the 1970s, when she sang her own songs, accompanying herself on the piano, in a series of albums and concerts. After experiencing commercial disappointment with her debut album Writer, King scored her breakthrough with the album Tapestry which topped the U.S. album chart for 15 weeks in 1971 and remained on the charts for more than six years.

In 2000, Joel Whitburn, a Billboard pop music researcher, named King the most successful female songwriter of 1955–99 because she wrote or co-wrote 118 pop hits on the Billboard Hot 100. She has written 61 hits on the UK charts. In 2005 music historian Stuart Devoy found her the most successful female songwriter on the UK singles charts 1952–2005.

King has made 25 solo albums, the most successful being Tapestry, which held the record for most weeks at No.1 by a female artist for more than 20 years until broken by Whitney Houston (for the soundtrack album The Bodyguard). Her most recent non-compilation album was Live at the Troubadour in 2010, a collaboration with James Taylor that reached number 4 on the charts in its first week and has sold over 600,000 copies.

She has won four Grammy Awards and was inducted into the Songwriters Hall of Fame and the Rock and Roll Hall of Fame for her songwriting. She is the recipient of the 2013 Library of Congress Gershwin Prize for Popular Song, the first woman to be so honored.

King has appeared sporadically in acting roles, notably three appearances as guest star on the TV series Gilmore Girls as Sophie, the owner of the Stars Hollow music store. King's song "Where You Lead (I Will Follow)" was also the theme song to the series, in a version sung with her daughter Louise. King also appeared as Mrs. Johnstone as a replacement in the original Broadway production of Blood Brothers.
Personal life and family

King has been married four times, to Gerry Goffin, Charles Larkey, Rick Evers, and Rick Sorenson. In her 2012 memoir A Natural Woman, King wrote that she had been physically abused by her third husband, Rick Evers, on a regular basis. Evers died of a cocaine overdose in 1978.

Her children are musicians Louise Goffin and Sherry Goffin Kondor, artist Molly Larkey, and Levi Larkey.