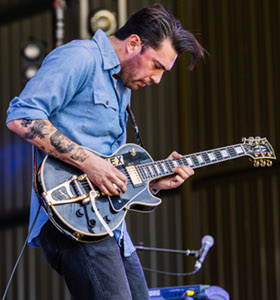 Hanni El Khatib is a San-Francisco-born singer-songwriter and multi-instrumentalist currently based in Los Angeles. Hanni El Khatib, a first-generation American son of Filipino/Palestinian immigrants worked as a creative director for a skateboard fashion label and a designer for an advertising agency, before starting musical career as a multi-instrumentalist and singer-songwriter blending blues, folk and garage rock into songs designed (in his words) "for anyone who has ever been shot or hit by a train." Having debuted with two singles issued by Innovative Leisure in 2010, the following year he opened for Florence + the Machine before releasing his debut, Will the Guns Come Out, bringing about comparisons with Devendra Banhart, Jon Spencer and The White Stripes. Backed by drummer and close friend Nicky Fleming-Yaryan, he's played the 2011 SXSW and Bonnaroo festivals.

His second album, Head in the Dirt, released after two years of excessive touring, was recorded by Dan Auerbach of Black Keys who's provided a more polished and sophisticated sound, letting the music retain the same eclectic quality. "…[F]or all of its weirdness, this album feels more like a pop record than his debut, and while Auerbach certainly didn't scrub all of the dirt and grime off of the album, it feels a lot more put together, bearing a lot of resemblance to the Black Keys' later work," according to Allmusic.

Hanni El Khatib's music has been used in television commercials for Captain Morgan, Sky Atlantic, Nike, and Nissan,

His music was used in the USA Network series Suits, HBO series Hung, the Showtime series Californication and United States of Tara, the BBC series Luther and the feature film For a Good Time, Call.... The song "Build. Destroy. Rebuild." was used in the episode "Charity Case" of the series House. His song "Can't Win 'Em All" was used for the 2013 Super Bowl ad for Audi (Prom: Tradition). "Come Alive" was used in the 2013 horror film Carrie. "Family" was used in NHL 14.