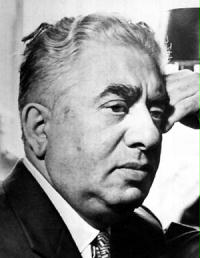 Aram Khachaturian (Armenian: Արամ Խաչատրյան, Aram Xačatryan; Russian: Аpaм Ильич Xaчaтypян, Aram Il'ič Hačaturjan) (June 6, 1903 – May 1, 1978) was an Armenian composer whose works were often influenced by Armenian folk music.
Aram Khachaturian was born in Tbilisi, Georgia, Imperial Russia to a poor Armenian family. In his youth, he was fascinated by the music he heard around him, but at first he did not study music or learn to read it. In 1921, he travelled to Moscow to join his brother, unable to speak a word of Russian. Although he had almost no musical education, Khachaturian showed such great talent that he was admitted to the Gnessin Institute where he studied cello under Mikhail Gnessin and entered a composition class (1925).
In 1929, he transferred to the Moscow Conservatory where he studied under Nikolai Myaskovsky. In the 1930s, he married the composer Nina Makarova, a fellow student from Myaskovsky's class. In 1951, he became professor at the Gnessin State Musical and Pedagogical Institute (Moscow) and the Moscow Conservatory. He also held important posts at the Composers' Union, which would later severely denounce some of his works as being "formalist" music, along with those of Sergei Prokofiev and Dmitri Shostakovich. These three composers became the so called "titans" of Soviet music, enjoying world-wide reputation as some of the leading composers of the 20th century.
Khachaturian's works include concertos for violin, cello, flute (transposition of violin concerto), and piano (the latter originally including an early part for the flexatone), concerto-rhapsodies for the same instruments, three symphonies—the third containing parts for fifteen additional trumpets and organ, and the ballets Spartak (AKA Spartacus) and Gayane (music of which was used in Stanley Kubrick's film 2001: A Space Odyssey). The latter ballet features in its final act what is probably his most famous movement, the "Sabre Dance".

He also composed some film music and incidental music for plays such as the 1941 production of Mikhail Lermontov's Masquerade. The cinematic quality of his music for Spartacus was clearly seen when it was used as the theme for a popular BBC drama series, The Onedin Line, during the 1970s. Since then, it has become one of the most popular of all classical pieces for UK audiences. Joel Coen's The Hudsucker Proxy also prominently featured music from Spartacus and Gayane (Sabre Dance included) mixed with the original compositions by Carter Burwell. He was also the composer for the state anthem of the Armenian SSR, whose tune is one of the five current choices to become the next state anthem of Armenia. The climax of Spartacus' first movement was also used in Ice Age: The Meltdown.
Khachaturian was enthusiastic about communism. In 1920, when Armenia was declared a Soviet republic, Khachaturian joined a propaganda train touring Armenia comprised of Georgian-Armenian artists. The composer joined the Communist Party of the Soviet Union in 1943. His communist ideals, along with his Armenian nationalism, are apparent in his works, especially Gayane (which takes place on a collective farm) and the Second Symphony. It was the Symphonic Poem, later titled the Third Symphony, that earned Khachaturian the wrath of the Party. Ironically, Khachaturian wrote the work as a tribute to communism: "I wanted to write the kind of composition in which the public would feel my unwritten program without an announcement. I wanted this work to express the Soviet people's joy and pride in their great and mighty country." Perhaps because Khachaturian did not include a dedication or program notes, his intentions backfired. Andrei Zhdanov, secretary of the Communist Party's Central Committee, delivered the so-called Zhdanov decree in 1948. The decree condemned Shostakovich, Prokofiev, Khachaturian, and other Soviet composers as "formalist" and "antipopular" . All three accused composers were forced to apologize publicly. The decree affected Khachaturian profoundly: "Those were tragic days for me... I was clouted on the head so unjustly. My repenting speech at the First Congress was insincere. I was crushed, destroyed. I seriously considered changing professions."
He died in Moscow on May 1, 1978, just short of his 75th birthday. He was buried in Yerevan, Armenia, along with other distinguished Armenians who made Armenian art accessible for the whole world. In 1998, he was honored by appearing on Armenian paper money (50 dram).