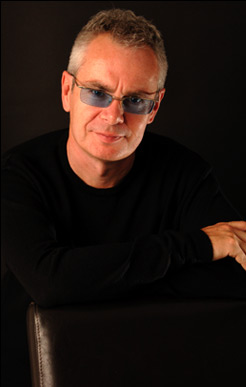 Nik Kershaw was born Nicholas David Kershaw in Bristol, England on March 1, 1958. After leaving school in 1976 he worked as a shop assistant and in the Department of Employment for several years, during which time he played guitar and sang in a number of underground Ipswich bands. However, when the last of these - "Fusion" - split up in 1982, he embarked on a full time career as a songwriter and performer. In 1983 he signed a contract with MCA Records, a deal which spawned his debut single, "I Won't Let the Sun Go Down on Me". At the beginning of 1984, Kershaw released his breakthrough song "Wouldn't It Be Good", featuring a video of Kershaw as a chroma key-suited alien. The song reached Number 4 in the UK charts and earned Kershaw world wide attention. He enjoyed three more Top 20 hits from his debut album Human Racing, including the title track and a successful re-issue of his debut single "I Won't Let the Sun Go Down on Me". This track ultimately proved his biggest hit as a performer when it reached Number 2 in the UK.
Despite winning awards, attracting admirers such as Elton John for his writing and gaining a huge teenage fanbase, Kershaw was not without his critics. Some complained that he did too much on stage when he had a competent backing band called the Krew to play all the required guitar and keyboard parts of his songs. Others derided his fashion sense. Kershaw made the snood and fingerless gloves into vital sartorial requirements in 1984. Some claimed he was, vocally, trying to sound like Stevie Wonder.

Kershaw's second album The Riddle came quickly on the heels of his debut release. The title track, released as a single, would send fans, journalists and linguists into overdrive, as each tried to establish what the meaning was behind the strange set of circumstances and clues which Kershaw wove into the verses and chorus. "The Riddle" proved to be another major hit, and the album also spawned two more UK Top 10 hits, "Wide Boy" and "Don Quixote", as it went platinum. During this time, Kershaw toured extensively with his backing band The Krew, consisting of Keith Airey, Tim Moore, Mark Price, Sheri Kershaw (Nik's then wife), and Dennis Smith.

In July 1985 Kershaw was among performers at Live Aid, held at Wembley Stadium. His star began to wane soon afterwards and he enjoyed only one more UK Top 40 hit. He continued to make and release records, and collaborate with others. His 1986 album Radio Musicola was released to critical acclaim but to little commercial success and it seemed that he had outgrown his original audience with increasingly mature releases; The Works, his final album of the 1980s, was released in 1989 to little critical or commercial success.
His prowess as a songwriter served him well in 1991 when his song "The One And Only", appeared on the soundtrack to the British film Buddy's Song and in the American movie Doc Hollywood. "The One and Only" proved to be a UK Number 1 single for the star of Buddy's Song, Chesney Hawkes (son of the Tremeloes' Chip Hawkes). In 1993 The Hollies had a minor hit with another of Kershaw's songs, "The Woman I Love". During the mid-nineties he also wrote and produced material for the boy band Let Loose, with three of the tracks ("Seventeen", "Crazy" and "Everybody Say, Everybody Do") achieving reasonable success.

1999 saw the release of 15 Minutes, a collection of songs that Kershaw considered more personal and mature. Kershaw revealed that he decided to record these tracks himself when he could not envisage them being recorded by other artists. Both 15 Minutes and the more commercial To Be Frank (2001) were stylistically different from his earlier work, being underpinned by acoustic guitar rather than synthesiser.

In the 2000s, the onset of 1980s nostalgia brought Kershaw back into the public eye to discuss the heights of his career. It was at this point that he revealed that "The Riddle" meant, in fact, nothing. He added that he could not say anything at the time because he was receiving thousands of essays and theses on the song, analysing what "The Riddle" meant and stood for, and what the answer was, and he did not want to disappoint people.

Over the years, Nik Kershaw has collaborated on albums with artists such as Elton John, Bonnie Tyler, Tony Banks, Les Rythmes Digitales, Michael W. Smith and Imogen Heap.

Kershaw and his wife Sheri, who is credited with backing vocals on several of his albums, separated in November 2003 after 20 years of marriage. They have three sons, Rudi, Ryan, and Dylan. Kershaw currently lives in Dunmow, Essex.

In 2005, he released Then And Now, a collection of earlier material with four new tracks. In 2006, he completed another solo album, You've Got To Laugh, available only through his website or digitally through iTunes. This new album contains 12 tracks and was released on his own label, Shorthouse Records. This year also saw the digital re-release of his 80s back-catalogue including The Riddle, Radio Musicola and The Works. Neither Then And Now or You've Got To Laugh was promoted with a tour.