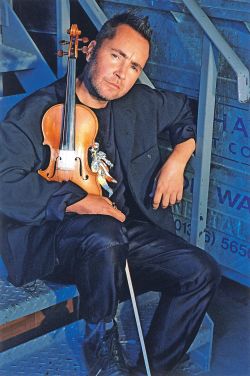 "Kennedy," as he has chosen to be known, is an individualistic and undeniably talented violinist who has emerged as one of the bona fide stars of the rich generation that came of age in the last quarter of the twentieth century. He has made a point of discarding what he sees as the conservative, staid traditions of classical concertmaking, and his personality may be summed up as flamboyant.

Born in 1956, Nigel Kennedy started playing the violin when he was five. He attended the Sir Yehudi Menuhin School in England, and later moved to New York to study at the Juilliard School with the famous teacher Dorothy DeLay. Kennedy made his debut in London in 1977, playing Mendelssohn's Concerto in E minor, as standard a work as could be desired. In his early broadcast appearances he exhibited a standard educated English accent. Later, when he adopted the image of a punk musician, his accent shifted to Cockney.

As his concert career grew, he was signed to a recording contract with Britain's EMI label. His first recording of Elgar's Violin Concerto was the 1985 Gramophone Record of the Year and rose to the top of the charts in England, selling over 300,000 copies. He exceeded even that mark with his Vivaldi Four Seasons disc, that even in the face of the stacks of other recordings of that warhorse work eventually won a listing in the Guinness Book of World Records as the best-selling classical recording of all time.

Kennedy began to add jazz improvisations as encores to his concerts. His concert demeanor and dress became more and more unconventional as he cultivated a carefully scruffy appearance that evoked Britain's punk rock scene. The violinist's new, decidedly nontraditional image proved to have wide appeal, boosting his sales and putting several more CDs at the top of the bestseller charts. Going further and further with his attempts to shake up the classical establishment, Kennedy did crossover performances and took on various eccentric mannerisms. His new ways included trashing hotel rooms in the fashion of a rock star. In 1992 he proclaimed that he was tired of playing "dead guys' stuff" and ceased performing.

He spent the time playing privately with friends and writing, but then edged back into playing with virtually unpublicized appearances at places like Oxford and Cambridge. He returned to the concert stage officially in 1997, and it was at this time that he asked to be called simply "Kennedy." He had written a concerto based on the music of Jimi Hendrix and frequently performed it with his band, "The Kennedy Experience." EMI elected not to release Kennedy's rock performances, but he found a congenial home for his new experiments on the increasingly crossover-oriented Sony label. Rumors that he had given up classical music entirely, or left EMI, appear to be untrue; new classical releases, including a remake of the Elgar concerto, have appeared on that label alongside the Hendrix album.

Early in his career Kennedy played the "Cathedrale" Stradivarius violin, but at the beginning of the 1990s he bought a lovely blond-colored Guarneri del Gèsu instrument known as the "Lafont" - the instrument on which the Tchaikovsky Violin Concerto was premiered.