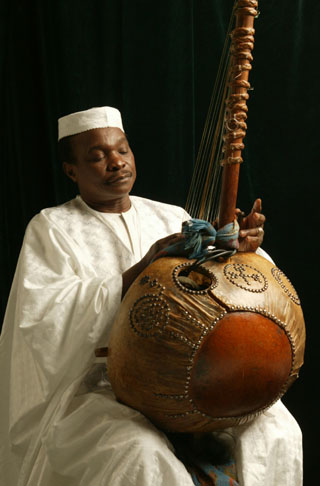 Mory Kanté (born March 29, 1950 in Kissidougou, Guinea) is an acclaimed vocalist and player of the kora harp. He was born into one of Guinea's best known families of griot (hereditary) musicians. After being brought up in the Mandinka griot tradition in Guinea, he was sent to Mali at the age of seven years – where he learned to play the kora, as well as important voice traditions, some of which are necessary to become a griot.

In 1971 Kanté became a member of the Rail Band, in which Salif Keïta was a singer. Keïta left the band in 1973, leaving Kanté as the singer.

Kanté is best known internationally for his 1987 hit song "Yéké Yéké", which was one of Africa's best-ever selling hits as well as being a European Number One in 1988 making it the first ever African single to sell over one million copies.
* * *
Born and brought up in Guinea, in the Mandinka griot tradition. When he was seven years of age he was sent to Mali. There he lived with his aunt and learned to play the kora, the West African harp, and to learn about important voice traditions, some of which are necessary to become a griot.
As a 15-year-old he moved to Bamako, Mali's capital, and became a member of Rail Band, that played in the foyer of the hotel in the train station. He played for seven years in all with Rail Band, together with, among others, Salif Keita. During this period he recorded the important album "L'exil de Sounjata", a theme album about one of Mali's former kings, Sounjata Keita.
In 1977 Mory Kante left for Abidjan on the Ivory Coast - an important cultural centre at that time. There he formed his own band and, together with producer Abdoulaye Soumare, began to experiment with fusion music, pulling American funk in the arrangements. They made the album "Courougnnegne", that laid the foundations for Mory Kante's subsequent crossover releases. The disc was a success in Mali, Senegal, The Ivory Coast and the African exile contingent in Paris. Encouraged by its sales in Europe, Mory Kante went to Paris with a scaled down version of his band. In 1984 came "Mory Kante A Paris", that established him as an artist in France, and spread the word to England and the USA. In 1988 Mory Kante had his biggest hit with "Ye Ke, Ye Ke", a dance-worthy disco sound that hit a large part of the world with its catchy blend of kora and house-music. He followed up that success in 1990 with the album "Touma", that still stands as a classic in Afro/Fusion music. In the 1990s he continued to develop this style, but never quite reached the level of "Touma".
Mory Kante makes easy and catchy dance music with an African touch and this is a good place to start to orientate oneself further into the African music jungle