..:: audio-music dot info ::..

Holly Johnson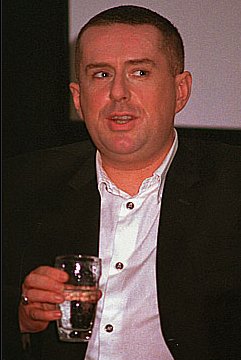 Best remembered as the frontman for British pop phenomenon Frankie Goes to Hollywood, singer Holly Johnson was born February 9, 1960 in Liverpool; in 1977 he joined the short-lived Big in Japan, and after issuing a pair of solo singles, "Yankee Rose" and "Hobo Joe," he formed Frankie Goes to Hollywood in 1980. Buffering their epic, opulent dance-pop with a brilliant marketing campaign highlighted by a series of provocative videos and sloganeering T-shirts, Frankie remains one of the '80s' quintessential bands, although their success proved short-lived and never really translated across the Atlantic; rising to superstardom on the strength of the singles "Relax," "Two Tribes," and "The Power of Love," their 1984 debut Welcome to the Pleasuredome was also well-received by the press, but the group's fall was as meteoric as their rise; after a disastrous 1986 effort, Liverpool, they disbanded. Johnson then spent the next several years locked in a court battle against label ZTT, ultimately winning his artistic freedom; he returned to music in 1989 with his solo debut Blast, which topped the UK charts. Dreams That Money Can't Buy followed two years later, around the time the openly-homosexual singer discovered he'd contracted HIV, a subject frankly detailed in his 1994 autobiography A Bone in My Flute. Also a successful painter, in 1996 Johnson exhibited his work in London; forming his own record label, Pleasuredome, in 1999 he issued his third LP, Soulstream.
Jason Ankeny, All music Guide

* * *
1960: Born near Penny Lane in Wavertree, Liverpool, 9th February in a room that was soon to be adorned with Beatles wallpaper, in the 60's capital of pop culture.
1965: St Mary's C of E Primary school, played with girls, wrote poetry , starred in school plays, wrote his first song on a glockenspiel.
1972: Liverpool Collegiate Grammar School for boys. Played in the Rugby team .
1973:Discovered Marc Bolan and David Bowie! Dyed his hair, Acquired nickname JOYFUL JOHNSON. Began writing songs on an acoustic guitar purchased with cigarette coupons . He traded his collection of Bowie ephemera for those coupons! Started to attend school less and less because of the persecution he and his friend Honey Heath had to suffer due to their outrageous appearance and blossoming individuality.
1974: Discovered Andy Warhol, The Velvet Undeground, Derek Jarman, William Burroughs and Jean Genet. Never looked back!
1976: Officially left school. Becomes a member of the Liverpool Demi Monde.
1977: First performances as a soloist and as a member of seminal New Wave combo Big In Japan. Part of the Erics clubscene that spawned Echo and The Bunnymen, Teardrop Explodes etc. Performed also with Jayne Casey as a Performance Art/Music duo The Sausages From Mars. Lived in Gambier Terrace, once home of John Lennon.

1978: Started to make Silk Screen Prints and Art T Shirts as part of his unique Pop Art Statement. Inspired by Warhols' Exploding Plastic Inevitable, Holly decides he is a MULTI MEDIA ARTIST. Big In Japan decide they don't want to work with Holly any longer, but fold soon afterwards. Their mistake.

1979: Recorded first solo single YANKEE ROSE c.w.Treasure Island and Desperate Dan for the Erics label. This appeared shortly after the Big In Japan EP "FROM A TO B AND BACK AGAIN" the first record on the ZOO label. Contains lyric and bass contributions from Holly "SUICIDE A GO GO" and "NOTHING SPECIAL"

1980: Worked on a building site in London for three months converting Warehousees at Metropolitan Wharf into artists studios- visited Paris in search of Genets' Tuilleries- returned to Liverpool wearing a sailors hat.

1979: Recorded "HOBO JOE original Frankie Goes To Hollywood- rehearsed for 3 months but left to work on W.I.N. a studio based project (with Steve Lovell) which lasted two years.

1981:Took LSD. Ignored the Toxteth riots despite living in Toxteth. Appeared in The Case Of Charles Dexter Ward as a Wraith At The Everyman Theatre. A Gothic Opera based on the H.P. Lovecraft book.

1982: Formed the second version of F.G.T.H. Started work on Art portfolio inspired by Warhol and Gilbert and George.

1983: About to start Art college when F.G.T.H. signed to ZTT and recorded RELAX.

1984: RELAX reached number one in U.K. , Germany and other territories, SOLD MILLIONS. Banned by the BBC! TWO TRIBES (9 weeks at number 1) and THE POWER OF LOVE both topped U.K. charts making British Pop History.While TWO TRIBES was at number 1 RELAX reentered the charts and took the number two spot which had not happened since John Lennons death in 1980. Welcome To The Pleasuredome F.G.T.H.'s number 1 debut album sells 3 million copies. First U.S. tour. Meets future manager and partner the art collector Mr Wolfgang Kuhle.

1985: World tour including Japan. Met Andy Warhol at last. Appeared in the Brian De Palma motion picture BODY DOUBLE. Started working on follow up album. Holly appears on the LIVE AID record. 1986/7 Starts drawing and painting again - while working on LIVERPOOL- F.G.T.H.s' second album. RAGE HARD the first single went to number one in Germany number 4 in the U.K. During the recording Holly becomes unhappy with the musical direction of F.G.T.H. Holly leaves the group in March 87 and takes legal advice over the ZTT recording and publishing contract which he and Wolfgang believe to be unfair. ZTT put an injunction on Hollys' recording career. Moves into house in Parsons Green, London with Wolfgang and his renowned collection of Bloomsbury art. Holly starts to paint in oils.

1988:Holly goes to court- In a legal history making court decision Holly is set free from the Unfair ZTT/Perfect Songs Recording and Publishing contracts. Signed to MCA.

1989: BLAST- Hollys' first solo album reaches number one in the U.K. Spawning three hit singles-LOVE TRAIN- AMERICANOS- and ATOMIC CITY. Platinum album. Holly sings on the Number one PWL single FERRY ACROSS THE MERSEY along with Paul Macartney, Gerry Marsden, and The Christians. Proceeds of this single went to the families of the victims of the Hillsborough disaster.

1990:Holly records LOVE ME TENDER for an NME charity album of Elvis favourites.. Writes a song with VANGELLIS. HOLLELUJAH the remix album is released including classic Frankie Knuckles remix of LOVE TRAIN. BLAST the videos is released. Starts to write and record new album but relations with MCA become strained.
1991: Holly leaves MCA after he discovers that no promotion budget has been set for his new album. DREAMS THAT MONEY CAN'T BUY- Hollys second solo album is released half heartedly by MCA. In November Holly discovers he is HIV POSITIVE. Stops making music and begins writing his autobiography, painting and coming to terms with his AIDS diagnosis.

1992: Writing and painting. Holly withdraws from the world. Starts making 20th Century Icons a series of collages using gold leaf and Objet Trouve inspired by Derek Jarman. Continues writing his book. Tells family off his HIV infection.

1993: Supported by Wolfgang , Holly announces his HIV Status in The Times, Easter issue but is crucified by the tabloid press who steal the article before it is printed. Finishes first draft of his memoirs which he continues to edit for the rest of the year. RELAX is remixed and becomes a hit again as does THE POWER OF LOVE, TWO TRIBES and WELCOME TO THE PLEASUREDOME. BANG! the greatest hits of F.G.T.H. sells a million copies throughout Europe.

1994: Holly's autobiography A BONE IN MY FLUTE published by Century , Random House-receives rave reviews and is a bestseller. The cover is a portrait of Holly by the French Artists Pierre et Gilles. Jimmy Sommerville presents Holly with a legendary handbag at the booklaunch. Holly collaborates on musical projects with Vinnie Reilley from The Durrutti Column. Writes and performs a song with Ryuichi Sakamoto for Sakamotos' forthcoming album, - the title is LOVE AND HATE. Holly appears in the video for this song, which is used live on stage as part of Sakamoto's world tour. Begins writing songs again with Nick Bagnall bass player with Fatima Mansions and P.J. Harevy. Produces the single LEGENDARY CHILDREN (ALL OF THEM QUEER) As a gift to the world, especially the gay community who have supported his career over the last ten years. The song is Number One in Israel. Holly Performs it in front of 150.000 people at th annual Gay Pride festival-the 25th anniversary of the stonewall riots. Holly exhibits paintings and Icons at THE ART SHOW at Alexander Palace in London ( including a Seven foot high nude portrait of Burt Lancaster)- this is the biggest art exhibition ever staged in the U.K. He also exhibits with the CONSUMERIST THEATRE OF DESIRE a group of avant gard artists and performers at VOLTAIRE STUDIOS in London.

1995: Holly hosts LIVE AT THE LIGHTHOUSE a televised concert to raise money for the LONDON LIGHTHOUSE, he performs THE POWER OF LOVE accompanied by Ann Dudley (ART OF NOISE) on piano. A BONE IN MY FLUTE comes out in paperback. Holly joins the Cyberband Res Rocket Surfers and briefly disappears into Cybernation. Builds Sky studios- a multi media art facility. Illustrates for Details magazine, journalism for Modern Painters magazine.

1996:Exhibits at the 1996 Contemporary Art Fair with Jibby Bean.First One Man Exhibition "The House Of Holly" curated by Kate Chertavian and Wolfgang Kuhle at The Gallery, Cork Street, London. Plans to record again and create new website and multi media CD ROM Archive.

1997:Exhibits "The Beatles Icon" at The Royal College Of Art as part of The Milestones Exhibition organised by Brian Eno -in Aid Of War Child. Sculptures by Music Legends were subsequently auctioned off at The Saatchi Gallery. Appears at The Hillsborough Justice Concert with headliners The Lightening Seeds (Anfield Football stadium Liverpool) Hollys' appearance was described as The Highlight of the event (Daily Mirror, NME) The live recording of Ferry Across The Mersey appears on the album of the Event "You'll Never Walk Alone"(V2 Records) Also Appeared at Gay Pride 1997 Holly appears at the largest open air Music Festival in Europe.

1998: Continues to work on his album....'SOULSTREAM"

Copyright 1998 by Holly Johnson

Blast (MCA Records, 1989)
Soulstream (MCA Records, 1999)
Europe (Pleasuredome Records, 2014)