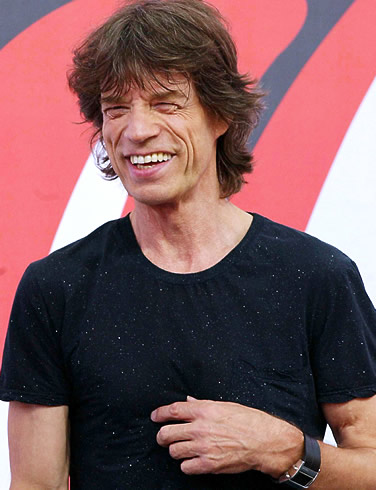 Sir Michael Phillip "Mick" Jagger (born July 26, 1943) is an English rock musician, actor, songwriter, record and film producer and businessman. He is one of the world's most famous celebrities, best known as the frontman of the rock band The Rolling Stones.
Jagger was born into a middle-class family at the Livingstone Hospital, East Hill, Dartford, Kent, England. His father, Basil Fanshawe ("Joe") Jagger (6 April 1913 – 11 November 2006), and his paternal grandfather, David Ernest Jagger, were both teachers; his mother, Eva Ensley Mary Scutts[1] (13 April 1913 – 18 May 2000), an Australian immigrant to England, was an active member of the Conservative Party. Jagger was the older of two sons and was raised to follow in his father's career path. According to Jagger in the book According to the Rolling Stones, "I was always a singer. I always sang as a child. I was one of those kids who just liked to sing. Some kids sing in choirs; others like to show off in front of the mirror. I was in the church choir and I also loved listening to singers on the radio - the BBC or Radio Luxemburg - or watching them on TV and in the movies."[citation needed] Academically successful, he attended Dartford Grammar School where he passed 3 A-levels, before entering the London School of Economics on a scholarship. He studied for a degree in accounting and finance, but attended for less than a year and did not graduate, leaving to pursue a musical career. School legend has it that Jagger was asked to leave the London School of Economics after an incident in which he rode a motorcycle inside the library.
His decision to drop out of university in 1962 in favour of music was not approved by his mother and was reluctantly accepted by his father. Jagger has stated in interviews he could not blame his parents for their mistrust of his choice; even he doubted a life-long career in music was possible. He had two bands in his early years, Little Boy Blue and the Blue Boys, which played "skiffle" music; according to Jagger, this was "more like a coffee-house version of folk music."
As a student, Jagger frequented a London club called "the Firehouse". At the age of 19, Jagger began performing as a singer. Like Keith Richards and other members of The Rolling Stones, Jagger had no formal musical training and did not know how to read music. He frequented clubs such as the famous Marquee Club or The Ealing Club, and admired the same type of blues musicians that Brian Jones and Keith Richards favoured. "I had a number of friends who had their own record collections, so we used to go round to their houses and listen to them there... We played everything and anything - that's how you learn... It was all a bit like trainspotting," Jagger has said.[citation needed] Elmore James was one of the band's early favourites, as well as anything from Chess Records in Chicago. While Jagger knew Keith Richards as a schoolmate, the songwriters reunited when Richards saw Jagger with a blues record under his arm and asked him where he had purchased it. The two, combined with Jones, Bill Wyman, Ian Stewart, and Charlie Watts, formed the Rolling Stones, basing their name on the Muddy Waters tune "Rollin' Stone." Stewart was dropped from the band for not fitting the image desired by manager Andrew Loog Oldham, but still toured with the band as a pianist until his death in 1985. It was Oldham who insisted that Jagger call himself "Mick" rather than "Mike", a name he continued to use among friends; for example, John Lennon calls him Michael in the 1968 film The Rolling Stones Rock and Roll Circus. Jagger was not an immediate success as lead singer of The Rolling Stones. By his own admission, he was a stiff and awkward school boy in front of an audience, but in the same way the Stones learned how to play and write songs – through imitating other artists – Jagger developed a stage presence. When the Stones began to play live gigs throughout England with other artists, such as Ike and Tina Turner, Jagger learned from other singers how to work an audience and quickly developed his own unique style. As his songwriting and recording career emerged, Richards became his main collaborator, which cemented a close friendship. Brian Jones became more of an isolated figure in the band, as he was unable to contribute to the songwriting process. On September 26, 2007, Mick Jagger and the Rolling Stones made $437 million on their "A Bigger Bang Tour" to list them in the latest edition of Guinness World Record.

In 1967, Jagger and Richards were arrested and charged with drug possession after a highly-publicised raid on Richards' country house, during which it was alleged that singer Marianne Faithfull was found naked except for a fur rug wrapped around her. The raid was later revealed to have been prompted by a tip-off to the London Drug Squad by journalists working for the News of the World, which at the time was running a series of lurid reports about the alleged use of illegal drugs by British pop stars. In one of these reports, Jagger was alleged to have spent an evening at a London club in the company of a journalist, during which he openly discussed his drug-taking and invited others back to his flat "for a smoke". When the report was published, it became obvious that the hapless journalist had mistaken Brian Jones for Jagger – whereupon Jagger promptly sued the paper News of the World for defamation. However this legal action was stymied by his and Richards' subsequent arrest. The trial made front-page news around the world. Despite Jagger claiming that the pills allegedly found in his possession had been prescribed to him, both were found guilty. The severity of the sentences handed down (imprisonment with hard labour) caused a major public outcry. It was also the subject of the famous editorial by William Rees-Mogg, editor of The Times, titled "Who breaks a butterfly upon a wheel?" In it, Rees-Mogg asserted that it was Jagger's and Richards' celebrity that made them targets and that their sentences for first offences were harsher than "any purely anonymous young man" would have received. Their convictions were overturned on appeal, and they subsequently were released, though the other person arrested with them, noted London art dealer Robert Fraser, served six months. It was during this period that Jagger and Richards took over as the effective leaders of The Rolling Stones, as founder Brian Jones became more and more incapacitated by his spiralling drug use and lack of songwriting ability. Jones was fired from the band in June 1969 and accidentally drowned in his swimming pool July 3rd (though rumours persist that he was murdered).

After the band's acrimonious split with their second manager, Allen B. Klein, Jagger took control of their business affairs and has managed them ever since in collaboration with his friend and colleague, Prince Rupert Löwenstein. Decades after the band's creation, The Rolling Stones continue to perform and to court controversy. The release of their 2005 album A Bigger Bang included the song "Sweet Neo Con" in which Jagger's lyrics openly attack the presidency of George W. Bush. The Stones went on to make their first visit to Puerto Rico, playing to a sell-out audience of 20,000 at the new Jose Miguel Agrelot Coliseum. Tickets to the concert were being sold for up to $1,000, more than twice the top published price of $460. On 8 April 2006, the Stones performed in Shanghai, their first ever show in mainland China.
Jagger has come under fire throughout most his career, but the majority has come from music industry insiders and fans, as opposed to opponents of rock and roll. The most damning contention is related to the Stones' Altamont Free Concert at Altamont Speedway in California. By some accounts, the Hells Angels were hired to be security by the Rolling Stones on recommendation from the Grateful Dead for $500 and free beer, a story Dick Carter, the speedway owner and Ralph 'Sonny' Barger Angels' Oakland chapter head both vehemently denied. According to Stones' road manager Sam Cutler, "the only agreement there ever was...the Angels would make sure nobody fucked with the generators, but that was the extent of it. But there was no 'They're going to be the police force' or anything like that. That's all bollocks." [4] Whatever the case, the presence of the Angels became extremely controversial as they injured several fans, killing one – Meredith Hunter, an eighteen-year-old black man. It was also suggested that the Angels supplied drugs at the concert. Rumour held that the Stones, and Jagger in particular, not only did not try to stop the violence, but encouraged it by singing "Sympathy for the Devil" while Hunter died. This is strictly an urban legend, as "Sympathy for the Devil" was played four songs prior to the stabbing of Meredith Hunter; the Stones were playing "Under My Thumb" when Hunter was killed. Nevertheless, due to media pressure, they dropped "Sympathy for the Devil" from most of their 1970s US live set lists. Other unfounded rumours circulated that Jagger, despite his blues-based band and songs such as "Brown Sugar" and "Sweet Black Angel" (the latter being a tribute to Black Panther Party activist Angela Davis), was racist and did not want a black fan at his concert. However, concert tapes clearly show Jagger trying to calm the audience and end the violence; he has also been a vocal anti-racist.
Jagger also has an acting career, most notably in Nicolas Roeg's Performance (1968) and as Australian bushranger Ned Kelly (1970). In the early 1980s, Jagger was cast as a main character in Werner Herzog's Fitzcarraldo, however numerous delays in the film's notoriously difficult production resulted in him being unable to continue due to schedule conflicts with a band tour; some of the footage of his work is shown in the documentary Burden of Dreams. More recently he appeared as a persistent heavy in Freejack (1992) and in art films such as Bent (1997) and The Man From Elysian Fields (2002). In 1995, Mick Jagger founded Jagged Films with Victoria Pearman, "to start my own projects instead of just going in other people's and being involved peripherally or doing music".[5] Its first release was the World War II drama Enigma in 2001. In late February, 2007 Paramount Pictures announced that Jagger will be teaming up with Academy-Award-winning director Martin Scorsese to co-Produce a new film titled The Long Player. Jagger has also signed on to appear regularly as himself in a television sitcom based on the theme of a small group of inept thieves who want to rob him. The sitcom's working title was Let's Rob Mick Jagger but was later renamed The Knights of Prosperity; on January 3, 2007 Jagger guest starred in the premiere episode.
From Wikipedia, the free encyclopedia