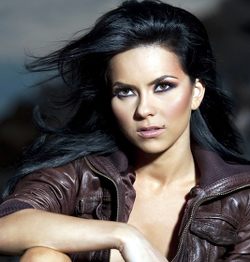 Inna (born Elena Alexandra Apostoleanu in October 16, 1986) is a Romanian singer and dancer. Her music is written by Play & Win members Sebastian Barac, Radu Bolfea and Marcel Botezan. She is best known for becoming the first European female singer to surpass one billion total views on YouTube, having accomplished this milestone in February 2012.

Inna's debut studio album, Hot, was an international success, appearing in many record charts around the world, and particularly popular in the United Kingdom where it reached number one. The album's lead single of the same name charted worldwide, topping in 2009 a United States year-end chart. The song won the award for the MTV Europe Music Award for Best Romanian Act at the 2009 MTV Europe Music Awards. It got Gold music recording sales certification in Italy, 3× Platinum in Norway and Platinum in Spain.

Inna's second studio album, I Am the Club Rocker, was produced by Play & Win and received the Romanian Album of the Year award from her label Roton. Her third studio album, Party Never Ends was released in March 2013 and reached the 10 in Mexico.

She has won numerous awards, including two MTV Europe Music Awards and over thirteen awards in three consecutive years at the MTV Romania Music Awards. As of May 2011, Inna has sold over 100,000 albums and over 600,000 singles in the United Kingdom. At the end of 2011 Inna became the richest recording artist in Romania and in Eastern Europe. Her net worth is over 10 million euro. As of April 2014, she has sold over 3 million copies of her 3 studio albums.

Inna has been compared to Shakira, Rihanna, Britney Spears, and Lady Gaga. In her teens, Inna performed with a pop rock band that did not achieve much success. Her first recordings are the ballads and soft pop/rock songs "Goodbye", "Sorry" and the Romanian language song "Oare" (Really), which were not released until her later success.

After meeting the producers making up Play & Win, her musical style changed radically. Dance and club songs became her most frequent recordings. In an interview with Adevărul, the singer stated that "Hot" is "an up-beat house song with club beats and it is very commercial." She performed all of her singles live and unplugged in countries such as Poland, Belgium, France and Spain. On December 1, during the Romanian National day, Inna gave a live performance of traditional Romanian songs and the military anthem "Treceţi Batalioane Române Carpaţii". Inna's second album, I Am the Club Rocker, contains more down-midtempo songs than the previous Hot, with songs like "Put Your Hands Up" or "Endless". The album also contains a tropical—flavored track "Un Momento" which is Inna's first movement toward R&B music. On December 1, 2011, Inna covered the song "Mai frumoasa", a classic pop song in Romania, originally performed by Laura Stoica.