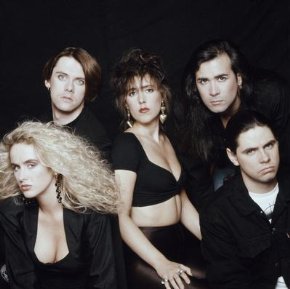 The Human League are an English electronic new wave band formed in Sheffield in 1977. Dare (1981), the band's most popular album, yielded the single "Don't You Want Me" a No. 1 hit in the pop charts of UK, US and many other countries. After its UK success, their first single, "Being Boiled" was reissued and became a top ten hit at the beginning of 1982. The success of "Don't You Want Me" is seen as the beginning of the MTV-driven Second British Invasion of the US. Other international hits include: "Love Action", "Open Your Heart", "Mirror Man", "Fascination", "The Lebanon", "Human" (a US No. 1) and "Tell Me When".

The only constant band member since 1977 is vocalist and songwriter Philip Oakey. Originally an avant-garde all-male synthesizer-based group, The Human League evolved into a commercially successful synthpop band under Oakey's leadership. Since 1987, the band has essentially been a trio of Oakey and long-serving female vocalists Joanne Catherall and Susan Ann Sulley (both of whom joined the ensemble in 1980), with various sidemen.

Since 1978, The Human League have released nine studio albums, four EPs, 30 singles and several compilation albums. They have had five albums and eight singles in the UK Top 10 and have sold more than 20 million records.

A new album, Credo was released in March 2011. It peaked at No. 44 on the UK Albums Chart.

The first single from the album, "Night People" was released on 22 November 2010 but failed to enter the mainstream UK chart. It did however reach No. 25 in the UK Indie chart. The follow up single, "Never Let Me Go" was released in the UK on 1 March 2011, however in Germany, Switzerland and Austria, "Egomaniac" was chosen as the second single. A double vinyl edition of Credo was released on 25 July 2011, together with the download of "Sky", the third single from the album.

At the end of 2012, the band undertook the 'XXXV Tour' across Europe and the UK, to celebrate 35 years in existence. The shows were critically acclaimed. The UK's Daily Telegraph said "as good a night's entertainment as you are likely to find anywhere on the planet".

In March 2014, "Don't You Want Me" re-entered the Top 20 of the UK Singles Chart, thanks to a social media campaign from the fans of Aberdeen F.C., who won the Scottish League Cup the previous weekend. They have adopted the song as a terrace chant, citing their midfielder Peter Pawlett with the lyrics changed to "Peter Pawlett Baby".

The Human League has influenced many electro-pop, other synthpop, and mainstream performers including Moby, Pet Shop Boys, and Little Boots. They have been sampled and covered by various artists including Tony Christie, Utah Saints, Ministry of Sound, Craig David, George Michael, KMFDM and Robbie Williams.