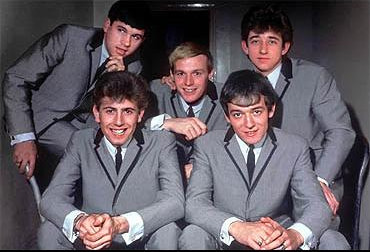 The Hollies are an English rock group known for their pioneering and distinctive three part vocal harmony style. The Hollies became one of the leading British groups of the 1960s (231 weeks on the UK singles charts during the 1960s; the 9th highest of any artist of the decade) and into the mid 1970s. It was formed by Allan Clarke and Graham Nash in late 1962 as a Merseybeat type music group in Manchester, although some of the band members came from towns north of there. Graham Nash left the group in 1968 to form the supergroup Crosby, Stills & Nash.

They enjoyed considerable popularity in many countries (at least 60 singles or EPs and 26 albums charting somewhere in the world spanning over five decades), although they did not achieve major US chart success until 1966 with "Bus Stop". The Hollies had over 30 charting singles on the UK Singles Chart, and 22 on the Billboard Hot 100, with major hits on both sides of the Atlantic that included "Just One Look", "Look Through Any Window", "Bus Stop", "I Can't Let Go", "On a Carousel", "Stop Stop Stop", "Carrie Anne", "Jennifer Eccles", and later "He Ain't Heavy, He's My Brother", "Long Cool Woman in a Black Dress" and "The Air That I Breathe".

They are one of the few British pop groups of the early 1960s that have never officially broken up and continue to record and perform. In recognition of their achievements, the Hollies were inducted to the Rock and Roll Hall of Fame in 2010.

The Hollies originated as a duo formed by Allan Clarke and Graham Nash, who were best friends from primary school and began performing together during the skiffle craze of the late 1950s. Eventually Clarke and Nash became a vocal and guitar duo modelled on the Everly Brothers under the names "Ricky and Dane Young." Under this name, they teamed up with a local band, the Fourtones, consisting of Pete Bocking (guitar), John 'Butch' Mepham (bass), Keith Bates (drums), and Derek Quinn (guitar). When Quinn quit to join Freddie and the Dreamers in 1962, Clarke and Nash also quit and joined another Manchester band, the Deltas, consisting of Vic Steele on lead guitar, Eric Haydock on bass guitar, and Don Rathbone on drums, which had just lost two members (including Eric Stewart, who left to join a "professional" band, The Mindbenders).

The Deltas first called themselves "The Hollies" for a December 1962 gig at the Oasis Club in Manchester. It has been suggested that Haydock named the group in relation to a Christmas holly garland, though in a 2009 interview, Graham Nash said that the group decided just prior to a performance to call themselves "the Hollies" because of their admiration for Buddy Holly. In 2009, Nash wrote, "We called ourselves the Hollies, after Buddy and Christmas."