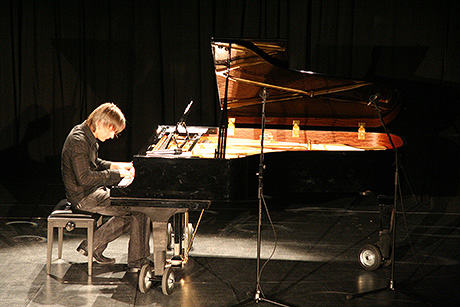 Balázs HAVASI was born in 1975 in Budapest, Hungary. He studied at the Liszt Ferenc Academy of Music at Sándor Falvai and Jenő Jandó. He is teaching piano at Weiner Leo Conservatory since 1996. After winning the Yamaha Piano Contest organised by the Yamaha Music Foundation of Europe he signed with EMI and published 7 albums within 6 years time. In the meantime he became one of the most well-known piano artists in Hungary. His last two albums only contain his own compositions, and are crossing the Hungarian borders...
As persistent in hard work in his professional carreer, such a bohemian in his private life.
People often wonder how a piano artist would ever become a professional Thai box fighter, choose hang-gliding and professional boxing as a hobby, and become obsessed with motorbike racing and supercars.
"It's enough to behave like a piano artist when I am on the stage" - he says.
Probably this kind of duality in his personality makes him such a really powerful and popular performer...
Before he started to publish piano albums, he was giving classical piano concerts. Regardless of the small mistakes, that may be discovered, he feels his live recordings are much more authentic than the tediously recorded precise studio works.