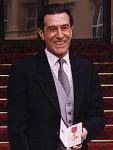 Albert Hammond (b. May 18, 1944) is a singer-songwriter, whose family came originally from Gibraltar.

Hammond was born in London, England, due to a war-time shift in family circumstances. He started in music with Gibraltarian band 'The Diamond Boys', of no huge commercial success, but which played a part in Spain's introduction to popular music, which at the time was under a very conservative dictatorship. The Diamond Boys performed at the first clubs in Madrid to stage modern bands alongside Spanish rock & roll pioneers, such as Miguel Rios (aka Mike Rios). In 1966 he co-founded the British vocal group Family Dogg scoring a top hit with A Way of Life in 1969.

Later life

He later moved to the United States, where he began his professional career as a musician. He is known for his hits of the 1970s such as:

1. "It Never Rains in Southern California"
2. "The Free Electric Band" (the only single of his to chart in the UK)
3. "I Don't Wanna Die in an Air Disaster"
4. "I'm a Train"
5. "Down by the River".

He has also written songs for others, including "Little Arrows" for Leapy Lee, "Make Me An Island" for Joe Dolan (which Hammond himself re-recorded in 1979 in a Spanish disco-style version), "Gimme Dat Ding" for The Pipkins in 1970 (itself a cover from the Freddie and The Dreamers album "Oliver in the Overworld", which Hammond wrote), and "The Air That I Breathe" which was a hit for The Hollies in 1974. Hammond also collaborated with Diane Warren on "Nothing's Gonna Stop Us Now" a transatlantic No. 1 in 1987 for Starship. He wrote "One Moment in Time," the theme song to the 1988 Summer Olympics in Seoul, South Korea, performed by Whitney Houston. He wrote many hits for Tina Turner, who also recorded the original version of Hammond/Warren's "Don't Turn Around", a number one for Aswad in 1988.

Hammond has released albums in both English and Spanish, and recorded many of his songs in both languages. In 2005 he released his first English album in many years, "Revolution of the Heart," and the single "This Side of Midnight."