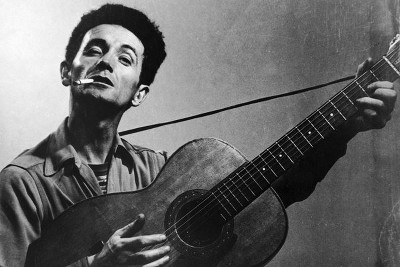 Woodrow Wilson "Woody" Guthrie (July 14, 1912 - October 3, 1967) was an American singer-songwriter and folk musician whose musical legacy includes hundreds of political, traditional and children's songs, ballads and improvised works. He frequently performed with the slogan This Machine Kills Fascists displayed on his guitar. His best-known song is "This Land Is Your Land." Many of his recorded songs are archived in the Library of Congress. Such songwriters as Bob Dylan, Phil Ochs, Bruce Springsteen, Robert Hunter, Harry Chapin, John Mellencamp, Pete Seeger, Andy Irvine, Joe Strummer, Billy Bragg, Jerry Garcia, Jay Farrar, Bob Weir, Jeff Tweedy, Bob Childers and Tom Paxton have acknowledged Guthrie as a major influence.

Many of his songs are about his experiences in the Dust Bowl era during the Great Depression when Guthrie traveled with displaced farmers from Oklahoma to California and learned their traditional folk and blues songs, earning him the nickname the "Dust Bowl Troubadour." Throughout his life Guthrie was associated with United States Communist groups, though he was seemingly not a member of any. Guthrie was married three times and fathered eight children, including American folk musician Arlo Guthrie. Guthrie died from complications of Huntington's disease, a progressive genetic neurological disorder. During his later years, in spite of his illness, Guthrie served as a figurehead in the folk movement, providing inspiration to a generation of new folk musicians, including mentor relationships with Ramblin' Jack Elliott and Bob Dylan.

At age 19, Guthrie met and married his first wife, Mary Jennings, with whom he had three children, Gwendolyn, Sue, and Bill. With the advent of the Dust Bowl era, Guthrie left Texas, leaving Mary behind, and joined the thousands of Okies who were migrating to California looking for work. Many of his songs are concerned with the conditions faced by these working class people.

Guthrie believed performing his anti-fascist songs and poems at home was the best use of his talents; Guthrie lobbied the United States Army to accept him as a USO performer instead of conscripting him as a soldier in the draft. When Guthrie's attempts failed, his friends Cisco Houston and Jim Longhi pressured Guthrie to join the U.S. Merchant Marine. Guthrie followed their advice and went to sea in June 1943 making voyages in convoys during the Battle of the Atlantic aboard the merchant ships SS William B. Travis, SS William Floyd, and SS Sea Porpoise. He served as a mess man and dishwasher and frequently sang for the crew and troops to buoy their spirits on transatlantic voyages. His first ship William B. Travis hit a mine in the Mediterranean Sea killing one person aboard but made it to Bizerte, Tunisia under her own power. His last ship, Sea Porpoise, took troops from the United States for the D-Day invasion. Guthrie was aboard when the ship was torpedoed off Utah Beach by the German submarine U-390 on July 5, 1944, injuring 12 of the crew. Guthrie was unhurt and the ship stayed afloat to be repaired at Newcastle upon Tyne in England before returning to the United States in July 1944. He was an active supporter of the National Maritime Union, the main union for wartime American sailors. Guthrie wrote songs about his experience in the Merchant Marine but was never satisfied with the results. Longhi later wrote about these experiences in his book Woody, Cisco and Me. The book offers a rare first-hand account of Guthrie during his Merchant Marine service. In 1945, Guthrie's association with Communism made him ineligible for further service in the Merchant Marine, and he was drafted into the U.S. Army.

House of Earth, a long-lost novel written by Guthrie in 1947, was published on February 5, 2013, by Harper under actor Johnny Depp's publishing imprint, Infinitum Nihil - Edited by Douglas Brinkley with an introduction by Johnny Depp. Guthrie apparently was unable to have the novel published during his lifetime. House of Earth is about a couple who build a house made of clay and earth to withstand the dust bowl's brutal weather. The book contains explicit sexual material, which may have contributed to his inability to get it published.

By the late 1940s, Guthrie's health was declining, and his behavior was becoming extremely erratic. He received various diagnoses (including alcoholism and schizophrenia), but in 1952, it was finally determined that he was suffering from Huntington's disease, a genetic disorder inherited from his mother. Believing him to be a danger to their children, Marjorie suggested he return to California without her; they eventually divorced. During the final few years of his life, Guthrie was largely alone except for family. Because of the progression of Huntington's, he was difficult to be around. Guthrie's illness was essentially untreated, because of a lack of information about the disease. His death helped raise awareness of the disease and led Marjorie to help found the Committee to Combat Huntington's Disease, which became the Huntington's Disease Society of America. None of Guthrie's three remaining children with Marjorie have developed symptoms of Huntington's. Mary Guthrie's son Bill died in an auto-train accident in Pomona, California, at the age of 23. Mary's other children, Gwendolyn and Sue, suffered from the disease and both died at 41 years of age.