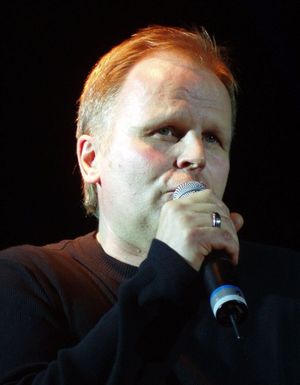 Herbert Arthur Wiglev Clamor Grönemeyer (born April 12, 1956 in Göttingen) is a German musician and actor and is very popular in Germany, Austria and Switzerland. He starred as war correspondent Lieutenant Werner in Wolfgang Petersen's movie Das Boot, but later concentrated on his musical career. His fifth album 4630 Bochum (1984) was the best-selling German language record of all time.

Birth and Childhood

Grönemeyer has his own explanation for why he was born in Göttingen and not Bochum: "I was only born in Göttingen because my mother often fainted when she was pregnant with me. She did this every time she turned to her left side, and no one believed her. In Göttingen there was a professor, a specialist, and he didn't believe her either, at which point she lay down, fainted, and brought me into the world. This is why I came into the world in Göttingen."

Work

In 2002 he achieved his first number one single with "Mensch" from the album of the same name, which was strongly influenced by the 1998 deaths of his wife Anna and brother Wilhelm (both dying within one week).

For many listeners a high point of the album "Mensch" is his tribute in the song "Der Weg" to his late wife Anna Henkel. The song is a powerfully moving tribute to a lost loved one. Fans would argue that it is a tragedy that the beauty of his words can only be appreciated by German speakers:

Du hast jeden Raum
Mit Sonne geflutet,
Hast jeden Verdruss
Ins Gegenteil verkehrt -
Nordisch nobel
Deine sanftmütige Güte,
Dein unbändiger Stolz,
Das Leben ist nicht fair.

Dein sicherer Gang,
Deine wahren Gedichte,
Deine heitere Würde,
Dein unerschütterliches Geschick -
Du hast der Fügung
Deine Stirn geboten,
Hast ihn nie verraten,
Deinen Plan vom Glück.

You flooded every room
With sunlight,
Turned every annoyance
To the opposite -
Nordic noble,
Your gentle goodness,
your untamed pride,
Life isn't fair.

Your confident stride,
Your true poetry,
Your serene dignity,
Your unshakeable grace -
You looked right into the eye
Of your destiny,
Never betrayed
Your plan of happiness.

His other brother Dietrich is a distinguished professor of medicine. Apart from Das Boot Grönemeyer only acted in few other movies, for example in Spring Symphony about composer Robert Schumann.

Grönemeyer's forays into the English language have met with very little success as his typical lyrics, full of wordplay, proved impossible to translate well. He remains mostly unknown outside the German-speaking countries.

Time Magazine awarded him the title of "European Hero" in 2005 for his humanitarian work.

Discography

* 1978 — Ocean Orchestra
* 1979 — Grönemeyer
* 1980 — Zwo
* 1982 — Total egal
* 1983 — Gemischte Gefühle
* 1984 — 4630 Bochum
* 1986 — Sprünge
* 1988 — Ö
* 1988 — What's all this
* 1990 — Luxus
* 1991 — Luxus (English)
* 1992 — So gut
* 1993 — Chaos
* 1994 — Cosmic Chaos
* 1995 — Unplugged
* 1995 — Live
* 1996 — Chaos (English)
* 1998 — Bleibt alles anders
* 2000 — Stand der Dinge (Double DVD/CD)
* 2002 — Mensch
* 2003 — Mensch live (Double DVD)
* 2006 — "Zeit, dass sich was dreht" / "Celebrate the day" (Official 2006 FIFA World Cup Anthem) (Maxi CD)
* 2007 — Lied 1-Stück vom Himmel