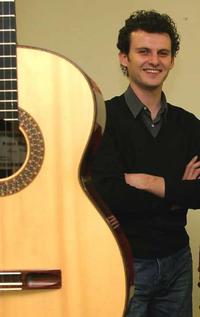 Slava Grigoryan was born in 1976 in Kazakhstan and immigrated with his family to Australia in 1981. As a major prizewinner at the Tokyo International Classical Guitar Competition, Slava was signed by Sony Music Entertainment Australia under the Sony Classical Label in 1995 and has since released 6 solo albums and many collaborative projects. His first national tour was with guitar legends Paco Pena and Leo Kottke.

Slava Grigoryan has performed at many national and international Festivals such as the Brighton International Festival, the City of London Festival, the Harrogate International Arts Festival, Dresden Musikfestpiel, the Newbury Festival in the UK, the Guitar Festival of Great Britain, the Darwin International Guitar Festival, the GFA Festival in La Jolla, California, the Wirral International Guitar Festival, the Al Bustan Festival in Beirut, the Hong Kong Arts Festival the New Zealand Arts Festival and the Sydney, Melbourne and Brisbane Festivals in Australia.

He has appeared with many of the world's leading orchestras, including the London Philharmonic, BBC Concert Orchestra, the Northern Sinfonia, The Royal Scottish National Orchestra, Israel Symphony Orchestra, Dresden Radio Orchestra, the Klagenfurt Symphony Orchestra in Austria, the Halle Orchestra, the New Zealand Symphony, the Australian Chamber Orchestra and all of the Australian Symphony Orchestras.

He has also played with many string quartets and chamber ensembles. These have included The Goldner, Flinders and Australian String Quartets in Australia, and the Endellion, Skampa, and Chillingirian quartets in the UK. He regularly performs with his brother Leonard and is a founding member of Saffire, the Australian Guitar Quartet, featuring Karin Schaupp, Gareth Koch and Leonard Grigoryan, with whom he has toured Europe and North America as well as regular performances in Australia. In 2005 he toured Australia with American great, Ralph Towner, and legendary jazz guitarist from Austria, Wolfgang Muthspiel.

His debut classical album for ABC Classics – Sonatas and Fantasies - was released in March 2002 and was awarded Best Classical Album at the 2002 ARIA Awards. 2003 saw the release of two new albums on the ABC Classics label – Play (with Leonard Grigoryan) and Saffire (The Australian Guitar Quartet), which went on to win the 2003 Best Classical Album ARIA. More recently, he recorded an album of music by Australian composer Shaun Rigney, and a recording of the Rodrigo Concerto's with his brother Leonard and the Queensland Orchestra.

Highlights in 2006 include concerts in England, Estonia, Russia and Malaysia with Leonard, a national tour of Australia with the Southern Cross Soloists and a new album with Saffire. He will also release an album of Nigel Westlake's music featuring collaborations with the Melbourne Symphony Orchestra, conducted by Nigel Westlake, and pianist Michael Kieren-Harvey. A very significant collaborator has been Austrian singer/songwriter and electric bass virtuoso Al Slavik. They have been writing, recording and performing together regularly for over 10 years. Last year, Slava, Al, and their friend and buisness partner Reuben Zylberszpic released the first CD (Continental Shift) on their own label Which Way Music.