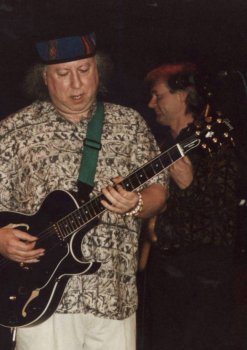 Peter Green (born Peter Allen Greenbaum on October 29, 1946 in Bethnal Green, London) is a British blues-rock guitarist and founding member of the band Fleetwood Mac.

Overview

Peter Green was considered by the likes of BB King and Dick Heckstall-Smith as being one of the greatest white blues-rock guitarists to appear in the 1960s. "I'm sorry, Peter Green is best" were BB King's words to a crowd at a Royal Albert Hall show with Fleetwood Mac in 1969 (among the audience members that night were contemporary guitarists Eric Clapton and his friend George Harrison, sitting in a private box watching the show). Although his playing was not as fast or flashy as his Bluesbreakers peers Clapton and Mick Taylor, it was marked with a distinctive keen vibrato and economy of style. He produced a unique sharp tone with a 1959 Gibson Les Paul Standard. The neck pickup on his guitar was magnetically out of phase to create this sound, which happened accidentally when Green took the guitar apart and put it together with the neck pickup inserted the wrong way round.
Career

Greenbaum (who called himself Peter Green by age fifteen) played bass in several amateur bands before being invited by keyboardist Peter Bardens to play lead in his band, Peter B's Looners in early 1966. After a three month stint, he had the opportunity to fill in for Eric Clapton in John Mayall's Bluesbreakers for three gigs. Upon Clapton's permanent departure not long after, he was hired full-time. Since Clapton already had a very good reputation, Green was under pressure to fill the vacuum that Clapton's departure created. But sceptical fans were soon won over to Green's unique haunting and melancholy style. In 1967, Green decided to form his own blues band, and left Mayall's Bluesbreakers after appearing on just one album (just as Clapton had done). The name of Green's new band was Peter Green´s Fleetwood Mac (the name came from the band's rhythm section, Mick Fleetwood and John McVie). In the late 1970's the re-organized band topped the charts with mainstream pop/rock albums, but initially it was a straight-up blues-rock band playing blues classics and some new material — just like Mayall's Bluesbreakers. Green was the leader of the group throughout their initial period of success in the late 1960s and early 1970s, when their hits included "Oh Well", "Man of the World" and "Albatross". He wrote the song "Black Magic Woman" that was eventually picked up by Santana. After the release of "Albatross" and consequent rise in fame, Green struggled spiritually with the band's success and being in the spotlight. While touring Europe, after a gig in Munich, Germany, Green went on a three day LSD fuelled binge. In his own words, he "went on a trip, and never came back". His use of LSD may have been a contributing factor to his mental illness, schizophrenia.

He quit Fleetwood Mac in 1970, declaring money to be evil and giving it away to charity. He recorded an experimental and extremely uncommercial album The End Of The Game and faded into obscurity, taking on a succession of menial jobs. Green had a brief reunion with Fleetwood Mac when Jeremy Spencer left the group (Green flew to America to help them complete the tour), and he was also an uncredited guest on their 1973 Penguin album on the track "Night Watch". Urged by friends to resume playing, he resurfaced in the late 1970s and early 1980s with a series of albums, including In the Skies, Little Dreamer, and White Sky. Although of inconsistent quality, these albums nevertheless contained glimmers of Green's unique blues styling and signature sound. He was also an uncredited guest on Tusk's "Brown Eyes"; contributed to "Rattlesnake Shake" and "Super Brains" on Mick Fleetwood's solo album, The Visitor. A 1990's comeback saw Green form the Peter Green Splinter Group, with the assistance of fellow musicians including Cozy Powell. The Splinter Group released nine albums between 1997 and 2003. A tour was cancelled and recording of a new studio album stopped in early 2004, when Green left the band and moved to Sweden. Shortly thereafter he joined The British Blues All Stars, but their tour in 2005 was also cancelled. A possible reason for these changes could be a planned reunion of the original Fleetwood Mac, as announced by Mick Fleetwood on March 14th, 2005.
Mental Illness

Peter Green has been institutionalised in the past with psychological problems, and he underwent electroconvulsive therapy in the mid-1970s. Many sources attest to his lethargic, trancelike state during this period. In 1977, he was arrested for threatening his accountant, Clifford Davis, with a rifle, but the exact circumstances are the subject of much speculation. After this incident he was sent to a psychiatric institution in London. This was prior to his re-emergence as a recording artist with PVK Records in the late 1970s and early 1980s.
Influence

Gary Moore had been inspired by Peter Green throughout his career, and even today Moore still holds a high regard for Green. Gary Moore also bought Peter Green's distinctive, 1959 Gibson Les Paul Standard (mentioned above), and continues to use it occasionally, in the studio. In the sleeve notes for the album "Blues for Greeny" recorded on the same guitar, Gary Moore writes that he wanted to help Peter Green out at the time, so they actually swapped guitars, and Peter used Gary's guitar to sort out his situation, and Gary kept Peter's Les Paul because he hated the idea that Peter might have to sell it.

From Wikipedia, the free encyclopedia
Site: www.fleetwoodmac.net