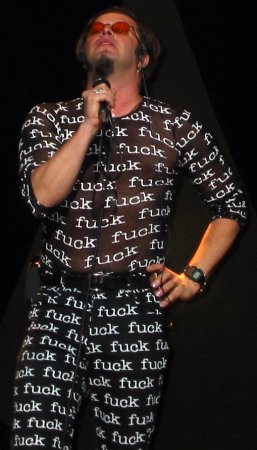 There is hardly a Russian in the world that hasn't heard of the legendary underground rock band Aquarium and its leader Boris Grebenshikov. The 45-year-old singer-songwriter has released nearly 70 original albums over the course of his 26-year career.
During the 70's and 80's Aquarium created an entirely unique musical and social aesthetic. Influenced by a variety of music styles and cultures, the group's sound nevertheless remained recognizable - whether performing quiet love ballads, light dancing reggae or powerful rock-n-roll anthems.
Grebenshikov is also no stranger outside Russia. His albums were recorded and released throughout Europe, and North America, and he is widely known and respected among top Western musicians. In 1989, Grebenshikov toured the West, releasing an English-language album, "Radio Silence" which featured appearances by Eurythmics' Dave Stewart and Annie Lennox, the Pretenders' Chrissie Hynde, Bananrama's Siobhan Fahley and percussionists Ray Cooper and Olle Romo.
In the early 90's, Grebenshikov returned to his roots forging a sound deeply inspired by Russian folk culture, and employing traditional instrumentation. His landmark "Russian Album" (1991) is considered by many to have changed the definition of Russian rock'n'roll music forever.
But he didn't stop there. Having cultivated his "traditional" sound through several masterly albums, in 1997 Grebenshikov made another abrupt stylistic departure. While his music still retains something of the Russian folk sensibility, it has definitely returned to it's rock'n'roll roots.
Grebenshikov's latest album "Lilith", marks the beginning of a new chapter in his musical career. Featuring a Western band (all members of Bob Dylan's famous "The Band" from his '60s heyday), the disc exemplifies the new folk-rock sound he's developed.

In recent years, Boris has become obsessed with the Internet and multimedia technology. He's created an official Aquarium Homepage (www.aquarium.ru), and released "Ring Of Time", a sophisticated CD-ROM project conceived around real places and events in Aquarium's continuing history.
Michael Morozov, January 1, 1999

(Photo courtesy of Alexander Torin, Sunny Vale)