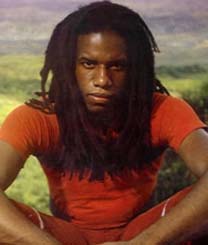 Date of Birth (DOB): 5/5/48
From: Guyana
Best Known for: Singer of "Electric Avenue" Owner of Ice Records

Edmond Montague Grant was born in Plaisance, Guyana on Mar 5, 1948. His family migrated to London, England when he was only 12. In 1965 he formed the Equals as the lead vocalist/guitarist, in 1967 they got a record contract and the following year they appeared on the charts with "I Get So Excited," their first hit. In 1968, "Baby Come Back," climbed to number one on the British charts. A heart attack at the age of 21 from the stresses of stardom spurred Grant to leave disband the Equals.

He was also a shrewd business-man, in 1972 he set up the first black-owned studio in Europe, Coach House and began recording his own music on his Label Ice Records. He scored a hit "Living on the Frontline" under a distribution deal with Columbia U.K. bought the masters to all of his recordings with the Equals and set up a record pressing plant.

In 1981 Grant relcoated to Barbados and built the Blue Wave studio complex recording the album "Killer on a Rampage" that would spawn his International smash hit "Electric Avenue". He also had another International hit on the soundtrack for the film "Romancing the Stone". In 1991, Grant was the host of the first annual Carribean Music Awards at the Harlem's Apollo Theater in New York City.

He shifted his focus to his label Ice Records, and began re-issuing recordings by Calypso and Soca legends such as the Mighty Sparrow, Roaring Lion, Lord Melody and others. He has been married for over 20 years and has 4 children. He spend his time between his studio, label and Pepperpot Nightclub. In 2000 he released a greatest hits compilation.

Eddy says, "in my heart, I know that Soca and Ringbang have the same potential as reggae to achieve great popularity… but there has never been any proper commitment to marketing these artists and their music. We are not Sony, and the artists on board realise it will take time. It is an upliftment process."