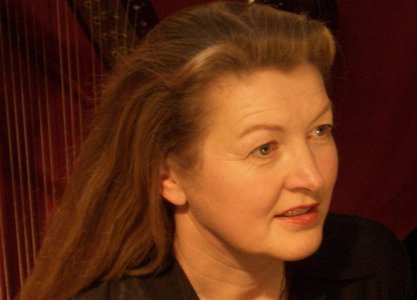 The Munich-born Maria Graf was exposed to Bavaria's rich tradition of folk music at a very early age, subsequently taking up music as a child and later entering the Musikhochschule of her native city. She completed studies in Munich with Ursula Lentrodt, and later in Paris with Pierre Jamet. An early recipient of numerous prizes and distinctions she quickly developed a large international career, which meanwhile has taken her around the world establishing her as one of it's leading harpists.

Her broad repertoire includes the full range of original music written for her instrument beginning with the 17th century Spanish masters, the preclassical and classical concertos through to the virtuosic romantic masterworks, especially of the French School, and contemporary compositions by Gubaidulina, Takemitsu, Lutoslawski, Henze, Dennissow, and Yun among others.

Her numerous appearances as a soloist have included engagements with the Berlin Philharmonic Orchestra, the Staatskapelle Dresden, the Symphony Orchestra of the Bavarian Radio, the Salzburg, Berlin and Lockenhaus festivals.

As a chamber musician, Maria Graf regularly collaborates with such partners as Irena Grafenauer, Giora Feidman, Eduard Brunner, Gidon Kremer, Ana Chumachenko, Tabea Zmmermann, Gerárd Caussé, Gustav Rivinius, the Cherubini and Rosamunde Quartets, as well as with internationally renowned singers Dietrich Fischer-Dieskau, Thomas Quasthoff, and Juliane Banse.

Her wide experience as an orchestra musician dates from her time as Principal Harpist of both the Berlin (under Herbert von Karajan) and Munich Philharmonics (under Sergiu Celibidache).

In 1988, Maria Graf was appointed Professor of the Hamburg Academy of Music, and in 1997, she was appointed Professor at the Hochschule für Musik Hans Eisler in Berlin.

Among the various CD recordings she has made, her Solo Album on the Philips label deserves speical mention. The programme includes only music of the French masters and has received unanimous critical acclaim. John Duarte, expert critic of The Gramophone wrote, "Simply the best harp playing I have heard in a very long time!"

Other recordings for the Philips label include music by Bach, the Mozart Concerto with Irena Grafenauer and the Academy of St. Martin-in-the-Fields under Sir Neville Marriner, and a Duet Album for flute and harp (also with Irena Grafenauer) containing French romantic music. For EMI, Orfeo and Koch-Schwann Maria Graf has recorded an album with Reichardt Lieder (featuring Dietrich Fischer-Dieskau), the Lutoslawski Double Concerto (with Eduard Brunner), and "Nachtlieder" by Matthus (with D. Fischer-Dieskau and the Cherubini Quartet).

For German television several video productions have been filmed with Maria Graf, among them a one-hour special portrait, a Christmas concert with James Galway, and a solo programme filmed in the historic Schloß Friedrichsfelde near Berlin.