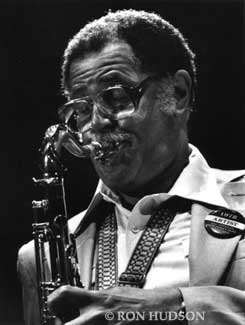 Dexter (Keith) Gordon (February 27, 1923 - April 25, 1990) was a United States jazz tenor saxophonist. He is considered one of the first bebop tenor players. From 1940 to 1980, Gordon played with such jazz greats as Lionel Hampton, Tadd Dameron, Charles Mingus, Louis Armstrong and Billy Eckstine. He also played with the Fletcher Henderson band in Los Angeles for a few weeks in 1947. A famous photograph by Herman Leonard of Gordon smoking a cigarette during a set at the Royal Roost in New York City in 1948 is one of the more iconic images in the history of jazz.

Gordon was a virtuoso particularly famous for his titanic saxophone duels with fellow tenorman Wardell Gray, that were a popular live attraction and that were documented in several albums between 1947 and 1952.

Many would characterise Gordon's sound as being 'large' and spacious (a feature partially owed to his physical stature), and his tendency to play behind the beat is discernible. One of his major influences was Lester Young. Gordon, in turn, was an early influence on John Coltrane during the 1940s and 1950s. Coltrane's playing, however, during his early period from the mid to late '50s or early '60s influenced Gordon's playing from then onward. Similarities in their styles include their clear, strong, metallic tones, their tendencies to bend up to high notes, and their abilities to single-tongue and still swing. One of Gordon's idiosyncrasies was to recite the lyrics of each ballad before playing it.

Gordon was composer, musician, and actor for the play 'The Connection' in 1960. After that, he spent 15 years in Europe, mostly in Paris and Copenhagen. Gordon played regularly with fellow expatriate jazzmen such as Bud Powell, Freddie Hubbard, Bobby Hutcherson, Kenny Drew, Horace Parlan and Billy Higgins. He also visited the States occasionally for recording dates, resulting in several albums being released under his name. Generally, the seven albums Gordon recorded for Blue Note Records in the 1960s (Doin' Alright, Dexter Calling..., Go, A Swingin' Affair, Our Man in Paris, One Flight Up, and Gettin' Around) are regarded as his finest sessions. Less well-known, but of similar quality, are the albums he recorded during the same period for the Danish label SteepleChase (Something Different, Bouncin' With Dex, and a few dozen others). They feature American sidemen but also such Europeans as Spanish pianist Tete Montoliu and Danish bassist Niels-Henning Ørsted Pedersen.

Gordon finally returned to the United States for good in 1976, and appeared at the Village Vanguard, NY, for a gig that was dubbed as his 'homecoming'. He noted 'There was so much love and elation; sometimes it was a little eerie at the Vanguard. After the last set they'd turn on the lights and nobody would move'. After this appearance, Gordon recorded several more albums that proved he was as good if not better than before his years in Europe, and he finally gained appreciation as one of the great jazz tenors. The increased attention that he received because of Columbia Records promotions has been seen as a turning point in jazz because they focused on acoustic jazz rather than the commercial cross-over styles which had been heavily promoted during the first part of the 1970s.

Gordon made several notable film appearances. The first occurred, oddly enough, while he was in prison for possession of heroin. He portrayed an inmate playing in the prison band in Unchained, though the soundtrack was later overdubbed. In 1986, Gordon starred in the movie 'Round Midnight as 'Dale Turner', an expatriate jazz musician much like himself; the role might even be a thinly veiled biography of him, though Lester Young and Bud Powell were its main inspirations. Gordon received a nomination for Academy Award for Best Actor for his portrayal. In addition, he had a non-speaking role in the film Awakenings.

Gordon is a member of the Jazz Hall of Fame, and was voted musician of the year by Down Beat magazine in 1978 and 1980.