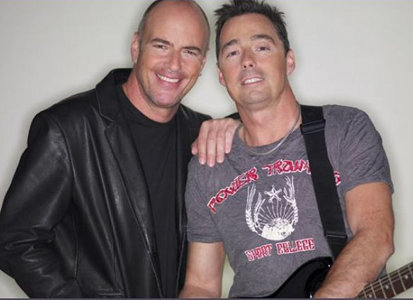 Go West is an English pop duo, formed in 1982, by lead vocalist/drummer Peter Cox (born 17 November 1955, in Kingston, Surrey, England); and guitarist/vocalist Richard Drummie (born 20 March 1959, in Twickenham, Middlesex, England). While they have had many successful singles in their native United Kingdom, they are generally best known in the United States for their hits "King of Wishful Thinking" and "Faithful".
Go West quickly had a publishing deal and possessed a portastudio, but lacked a band or recording company. Cox and Drummie decided, with support from John Glover, their manager, to find a musical producer, and record just two of their songs. The tracks "We Close Our Eyes" and "Call Me" found Go West developing a record deal with Chrysalis Records. The songwriting duo specialized in radio friendly, white soul sounds.
The band's debut single, "We Close Our Eyes," was released in 1985 and managed to reach Number 5 on the UK Singles Chart, and # 41 on the Billboard Hot 100. The video for the song became an early favorite on MTV. This helped them to be voted the "Best Newcomers" at the 1986 BRIT Awards. The song was part of the soundtrack for the Italian low-budget horror film Demoni, also known as Demons. The single would prove to be their highest-placing UK single, and only appearance in the UK Top Ten.

Later in 1990, Go West scored a Top 10 U.S. hit with the song "King of Wishful Thinking" from the movie, Pretty Woman. An instrumental version of the song's chorus is also alleged to be heard in the production logo for Gracie Films (seen at the end of The Simpsons).

On 16th October 2009 Peter Cox was announced as the new lead singer with Manfred Mann's Earth Band.