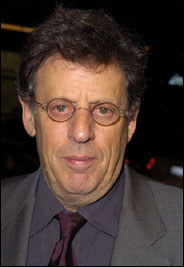 American composer Philip Glass returns to the Sony Classical label this Fall with the release of the original soundtrack recording of Naqoyqatsi, completing a trilogy of visionary films – beginning with Koyaanisqatsi (1983) and Powaqqatsi (1988) – on which the composer has collaborated with the American filmmaker Godfrey Reggio. The Naqoyqatsi soundtrack also represents the Glass's first collaboration with cellist Yo-Yo Ma, who is soloist throughout the score.
Born in Baltimore, Maryland on January 31, 1937, Philip Glass discovered music in his father's radio repair shop that carried a line of records in addition to servicing radios. To figure out why recordings of great chamber works sold poorly, Ben Glass would take them home to play for his three children. Philip rapidly became familiar with Beethoven quartets, Schubert sonatas, Shostakovich symphonies and other music then considered "offbeat." It was not until he was in his upper teens that Glass encountered more "standard" classics.
At six, Glass began music lessons and at eight, took up the flute. But by the time he was 15, he became frustrated with the flute's limited repertoire as well as with musical life in post-war Baltimore. During his second year in high school, he applied for admission to the University of Chicago, passed and, with his parent's encouragement, moved to Chicago where he supported himself with part-time jobs waiting tables and loading airplanes at airports. He majored in mathematics and philosophy, and during off-hours practiced piano and concentrated on such composers as Ives and Webern.
At 19, Glass graduated from the University of Chicago with majors in mathematics and philosophy. Determined to become a composer, he moved to New York and attended the Juilliard School. By then he had abandoned the 12-tone techniques he had been using in Chicago and began gravitating toward American composers like Aaron Copland and William Schuman.
By 23, Glass had studied with Vincent Persichetti, Darius Milhaud and William Bergsma. Rejecting serialism, Glass preferred such maverick composers as Harry Partch, Charles Ives, Moondog, Henry Cowell and Virgil Thomson – but still had not found his own voice. He then moved to Paris and spent two years of intensive study under Nadia Boulanger.
In Paris, he was hired by a filmmaker to transcribe the Indian music of Ravi Shankar into notation readable to Western musicians. In the process, he discovered the techniques of Indian music. After researching music in North Africa, India and the Himalayas, he returned to New York, renouncing his previous music, and applying Eastern techniques to his own work.

By 1974, Glass had composed a large collection of new music for both the Mabou Mines Theater Company that Glass co-founded and for his own performing group, the Philip Glass Ensemble. This period culminated in Music in 12 Parts, a three-hour summation of Glass' new music. In 1976 Glass reached an apogee in his collaboration with Robert Wilson, creating the opera Einstein on the Beach, a five-hour epic that is now seen as a landmark in 20th-century music theater. Glass then decided to make Einstein part of a trilogy that resulted in the creation of the operas Satyagraha and Akhnaten.

Over the years, Glass and Wilson have worked together on several other projects: Civil Wars (Rome) – Act V of the multi-composer epic which was written for the 1984 Olympics; White Raven, an opera commissioned by Portugal to celebrate its history of discovery, premiered at EXPO '98 in Lisbon and performed as part of the 2001 Lincoln Center Festival; and Monsters of Grace, a digital 3-D opera.

Glass has also collaborated with a variety of artists in a range of projects. His operas include: The Making of the Representative for Planet 8 and Marriages Between Zones Three, Four and Five with librettos written by Doris Lessing and based on her novels; Hydrogen Jukebox, libretto by Allen Ginsberg and based on his poetry; The Voyage, based on the exploration of Christopher Columbus, written by David Henry Hwang; and The Fall of the House of Usher, based on the Poe short story. Glass film scores include Godfrey Reggio's Koyaanisqatsi and Powaqqatsi; Errol Morris' The Thin Blue Line and A Brief History of Time; Paul Shrader's Mishima; Bernard Rose's Candyman; and an original score for the re-release of the1930 Dracula with Bela Lagosi. In addition, Glass has written music for dance with In the Upper Room, choreographed by Twyla Tharp, and A Descent into the Maelstrom. Then there are the unclassifiable theater pieces such as: The Photographer, The Mysteries and What's So Funny?, as well as 1000 Airplanes on the Roof with a libretto by David Henry Hwang and designs by Jerome Sirlin. Glass has also created a trilogy of musical theater pieces based on the films of Jean Cocteau – Orphée, La Belle et La Bête and Les Enfants Terribles. Lastly, Glass has been involved in cooperative recording projects like Songs from Liquid Days with lyrics by David Byrne, Paul Simon, Laurie Anderson and Suzanne Vega, as well as a collaboration with Ravi Shankar entitled Passages.

Glass's orchestral works include the large-scale work for chorus and orchestra, Itaipu; Symphony No. 5, another large choral work that draws from texts of wisdom traditions throughout the world; and Symphony Nos. 2 and 3, the Low and Heroes Symphonies, both based on the music of David Bowie and Brian Eno.

Critically acclaimed film scores include Martin Scorsese's Kundun – which won Glass the Los Angeles Film Critics Association Award in 1998, as well as Oscar, Golden Globe and Grammy nominations for Best Original Score – and original music for Peter Weir's The Truman Show, which won a Golden Globe Award for Best Original Score in 1999.

In 2000, Glass premiered Concerto Fantasy for Two Timpanists and Orchestra at Avery Fisher Hall in New York City and In the Penal Colony, a musical theater work based on the short story by Kafka and commissioned by A Contemporary Theater, Seattle. In 2001, he premiered Voices for Organ, Didgeridoo, and Narrator, commissioned by the City of Melbourne Australia; Concerto for Cello and Orchestra, commissioned for Julian Lloyd Webber's 50th birthday, at the Beijing Festival; and Dancissimo, commissioned by the Milwaukee Art Museum.

In addition to the Naqoyqatsi soundtrack, Glass has two other significant premieres in 2002. His Symphony No. 6 (Plutonian Ode), with text by Allen Ginsberg and commissioned by The Carnegie Hall Corporation and Brucknerhaus Linz, celebrates the composer's 65th birthday. Galileo, Galilei is a new opera, created in collaboration with and directed by Mary Zimmerman, commissioned by the Goodman Theater in Chicago.

Glass is currently touring Philip on Film, featuring new short films created specifically for this project as well as classics like Koyaanisqatsi, Powaqqatsi, La Belle et La Bête and Dracula that Glass has invented for live performance with his ensemble.

Philip Glass's extensive catalogue of recordings on the Sony Classical label include the premiere recordings of the operas Einstein on the Beach, Satyagraha and Akhnaten, as well as Glassworks, The Photographer, Itaipu and Songs from Liquid Days. A three-disc retrospective of his music, entitled Glassmasters, was released in 1997.