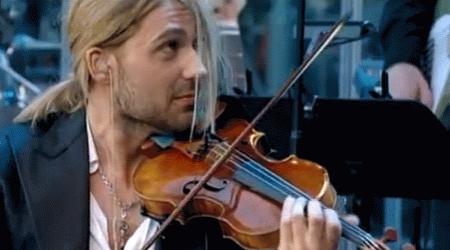 David Garrett (born David Christian Bongartz; 4 September 1980) is a German pop and crossover violinist and recording artist. Garrett was born in Aachen, Germany, to an American prima ballerina, Dove Garrett, and a German antiques dealer, Georg Bongartz. He adopted his mother's maiden name as his stage name, as "it was more pronounceable".

When Garrett was four years old his father bought a violin for his older brother. The young Garrett took an interest and soon learned to play. A year later, he took part in a competition and won first prize. By the age of seven, he studied violin at the Lübeck Conservatoire, and by the age of 12, Garrett began working with the distinguished Polish violinist Ida Haendel, often traveling to London and other European cities to meet her. After leaving home at 17, he enrolled in the Royal College of Music in London, leaving after the first semester. On being asked in an interview if he was expelled, Garrett responded: "Well expelled wasn't the official term… It was mutually agreed that me and the RCM were going separate ways after the first semester. I did skip some lessons – but I also broke in to do extra practice, so that didn't help!" In 1999 he moved to New York to attend the Juilliard School, in 2003 winning the Composition Competition of Juilliard School with a fugue composed in the style of Johann Sebastian Bach. While at Juilliard he studied under Itzhak Perlman, one of the first to do so, and graduated in 2004. Garret attended the Keshet Eilon Masterclasses in Israel in the summer of the years 1997, 1998, 1999 and 2002.

Garrett received his first Stradivarius at the age of 11, courtesy of German president Richard von Weizsäcker, after having performed for him. At the age of 13, Garrett recorded two CDs, appeared on German and Dutch television, and gave a concert in the residence of the Federal Republic of Germany President, the Villa Hammerschmidt, at Dr. von Weizsäcker's personal invitation. He was offered the use of the famous Stradivarius "San Lorenzo", which is among the best instruments of the "golden period". At the age of 13, as the youngest soloist ever, Garrett signed an exclusive contract with Deutsche Grammophon Gesellschaft. In April 1997, age 16, he played with the Munich Philharmonic Orchestra under the direction of Zubin Mehta in Delhi and Mumbai in concerts marking the 50th anniversary of India's Independence.

Two years later, Garrett played with the Rundfunk-Sinfonieorchester in Berlin, under the direction of Rafael Frühbeck de Burgos, and was hailed by critics. This led to an invitation to perform at Expo 2000 in Hannover. At the age of 21, he was invited to perform at the BBC Proms. While studying at Juilliard, Garrett supplemented his income by working as a model.

Garrett's 2008 album Encore pursues an aim of arousing young people's interest in classical music. The release contains arrangements and compositions of his own of pieces and melodies that have accompanied him in his life so far. Together with his band, consisting of keyboard, guitar and drums, he gives concerts that include classical sonatas (accompanied by a concert grand piano), arrangements, and compositions, as well as rock songs and movie themes. In Autumn 2007, Garrett was chosen by the Montegrappa firm (whose articles are distributed by Montblanc throughout the world) as an ambassador for the launch of the new pens from the Tributo ad Antonio Stradivari collection. The event took place in several different venues, including Rome, New York, Hong Kong, Berlin, and London. On this occasion, Garrett was offered a Stradivarius from the Gli Archi di Palazzo Comunale collection. He also appeared at the Royal Variety Performance on 5 December 2011, playing his cover of Nirvana's "Smells Like Teen Spirit".

He joined the 9th annual Independent Music Awards judging panel to assist independent musicians' careers. His most recent album, Music, was released in 2012. On 19 May 2012 he appeared in the UEFA Champions League Final performing with German singer Jonas Kaufmann. For 2014 he announced a new Crossover Tour.He played the lead role in the movie The Devil's Violinist, as the noted 19th century violinist Niccolò Paganini.

Official Homepage: www.david-garrett.com