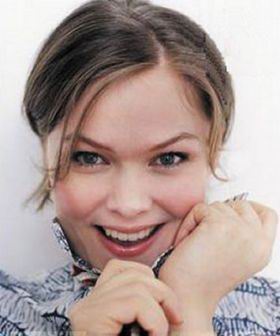 Anja Garbarek (born July 24, 1970) is a Norwegian singer-songwriter, daughter of the better known tenor/soprano jazz saxophonist, Jan Garbarek.

She received the Spellemannsprisen in 2001 for her album Smiling & Waving in the open class category.

* * *

Anja Garbarek had no intention of doing something musical with her career, despite having legendary saxophonist Jan Garbarek as her father. Having spent a fair portion of her youth on tour with him, she became enamored with the likes of Kate Bush, Brian Eno, and Laurie Anderson, just some of the artists who populated her dad's record collection.
After performing in a musical during college, the writer brought Anja to the attention of a friend in the record industry who ended up signing her. Attracted to the lack of boundaries that musical expression provides, as opposed to the lack of freedom involved with acting, Anja began her recording career only knowing that she had a lot of searching to do.

Her first album, 1992's entirely Norwegian Velkommen Inn (Come On In), essentially got her feet wet. In an attempt to flesh out her direction, she took four years to complete a second album, 1996's Balloon Mood.
Another five years passed until her most impressive outing yet, Smiling and Waving, which featured contributions from Robert Wyatt, Mark Hollis (Talk Talk), Steve Jansen (Japan), and former Cocteau Twins associate Mitsuo Tate. Like some of the work of her influences and collaborators, the record fit the mold of avant-garde pop, along with tinges of trip-hop, impressively blending woodwinds with electronic beats.
Andy Kellman, All Music Guide