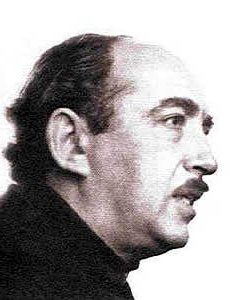 Alexander Arkadievich Galich (Ginzburg) was born on October 20, 1918 in Yekaterinoslav (Dnepropetrovsk, Ukraine). During 1935 - 1939 years he studied at the school of opera and drama in Moscow. First songs (Lenochka, Clouds ...) wrote in 1961. Galich is considered as one of the classic of the author song genre. In the 1940's - 1960's the name of Alexander Galich first of all was associated with plays and film scripts. His taking up songs was quite unexpected for many people. His songs were welcomed by the audience at once and without reserve through at the beginning just a few intelligent and prescient people comprehended their meaning. He missed nothing in his songs and struck a swinging blow in a trice. The poet, play and script writer became one of the initiators of the author's song and the author of "attaining momentary and dangerous renown songs" (S. Rassadin) Galich is considered by many a universally gifted person, one who was truly musical and with very good taste. The style of his music was very flexible and spoke of his high musical culture. (N. Karetnikov).
In 1968 at the Novosibirsk Festival the song "In Memory of Pasternak" was first performed. The government was very displeased with this song, and this caused Galich to be expelled from all possible unions and trades, refusals of his scripts and the like, and finally in 1974 Galich was expelled from the USSR. "No matter how pompous my words seemed to sound and even though many people have repeated them in different times before me - but my Russia will remain with me." (A. Galich). His return wasn't fated. All that was left of Galich was a book of prose, a small volume of poetry and kilometers of tape recordings...
Galich died in 1977 in Paris and was buried at Saint Genevieve de Bois Cemetery near the tombs of I. Bunin, D. Merezhkovsky, A. Tarkovsky and V. Nekrasov.

* * *
TRIBUTE TO ALEXANDER GALICH
Poet Alexander Galich was buried at the cemetery of Saint Genevieve de Bois near Paris. A black grave-stone bears an inscription in Old Slavonic: "Blessed Are Those Exiled For Truth". On October 19th Galich, a dissident poet whose verses and songs, although never been published in Russia, had been known to millions, would have turned 85. He spoke truth about the former Soviet totalitarianism, a blatant, outright, painful truth… In 1974 he was deported from Russia and died in exile. Galich was barred from official concerts. He sang half-legally in clubs, to small audiences, and in lots of other places, and the next day dozens of homemade tape recordings of the concert traveled to other cities and carbon copies of the lyrics were made secretly on rice-paper. It all started during the political "thaw" of the 1960s when under Nikita Khrushchev people took in a gulp of freedom followed by a change of power and a new depression. "Then an extraordinary thing happened. Culture moved underground, to people's flats. They gathered in groups for what may be called spiritual rest. Those were not political gatherings, although they did give people an opportunity to exercise their right to spiritual freedom…", philosopher Lev Ventsov recalls. It was at one of those meetings that Galich first sang his satirical songs about the communist party nomenclature, and songs about Zoshchenko, Mandelshtam, Mikhoels and other writers, poets and actors - victims of Stalinist reprisals. Galich was well over 40 back then. What made the well-known playwright and screenwriter abandon his successful career and step on a dissident path is still unclear.
1941. A youth studio in Moscow. Young actor Galich plays in a strikingly sincere and acute manner. World War II. Galich volunteers to join the army but is rejected for health reasons. He and other actors perform in hospitals and trains for the wounded. Galich sees the inner side of the war. The 40s and 50s. Galich is a playwright. He writes vaudevilles, calling them "lyrical rubbish", and "Matrosskaya Tishina" (the name of a Moscow prison) due to be premiered at a new studio in 1956 but cancelled after the dress rehearsal. Soviet cultural ideologists argued that the principal character in a Soviet play could not be a Jew. They refused to understand that his destiny resembled the destiny of Russians, Ukrainians and people of other nationalities in the 20s and 40s. At present "Matrosskaya Tishina" is on at Oleg Tabakov's Theatre. The 50s and 60s. Galich is the author of scripts to popular films "Faithful Friends", a comedy, and "On Seven Winds", a lyrical drama about World War II. In 1968 when Galich was performing his ballad "Dedicated to Pasternak" at a bard festival in Novosibirsk, 2000 listeners stood up in a gesture of solidarity with the author, respect for the famous writer and hatred for those who hunted him… Excluded from the Writers' and Cinematographers' Unions, Galich was left without means of subsistence. But he never repented. "They took away my literary rights but they can't take away my duties - to compose and sing songs", he wrote in an open letter.
In 1974 Galich was forced to leave the Soviet Union. "I am packing my suits", he wrote in his autobiographic short novel "Dress Rehearsal". "I leave the Soviet Union but not Russia. My Russia will stay with me". We could still hear him and his songs on Radio Liberty. "In the West he gave concerts and had his poems published, he gained recognition and respect, but no one who met him abroad could say he was happy. He didn't complain but his poems revealed profound nostalgia for the lost homeland", writer Yuri Nagibin recalled. On December 15, 1977, Galich came on the air with his regular program. 4 days later he died from electric shock. In that last program he said: "Our land is amazingly rich. It has all elements of Mendeleev's periodic table in its depths, all except the one named "happiness". And I hope someone's hand will put it on Mendeleev's table because we have the right to happiness".
By O. Bobrova