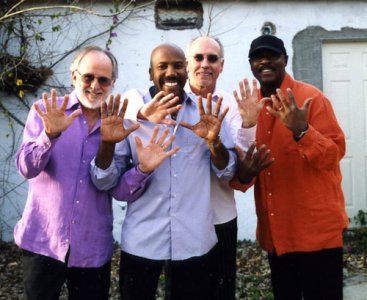 Fourplay, Warner Bros.' contemporary jazz group, launched it's career with a chart topping, solid gold debut album, "Fourplay" in 1991. Group founders are Bob James (keyboards), Nathan East (bass), Harvey Mason (drums), and Lee Ritenour (guitar). The sessions for three tracks of Bob James' "Grand Piano Canyon" in 1990 served as the origin of the band.

Their debut album "Fourplay" spent 33 weeks at the No. 1 spot on Billboards contemporary jazz chart. Their second album "Between the Sheets"in 1993 reached No. 1 on Billboards Contemporary Jazz Chart and was nominated for a Grammy Award; RIAA certified Gold. Their third album "Elixir" in 1995 ousted Kenny G's "Breathless" from No. 1 on Billboards contemporary jazz album chart after a record 92 weeks! In 1997, Fourplay, perhaps the most successful contemporary jazz group of the decade, released their first collection, "Best of Fourplay". It not only collects tracks from the band's three albums but also includes three unreleased (at least in the U.S.) tunes and a remix.

On February 3, 1998, Fourplay was back in the studio to work on their fourth record of original material, titled "4", for release on June 9, 1998. But this time, James, East, and Mason were joined by guitarist Larry Carlton, who is stepping in for the group's founding guitarist Lee Ritenour. As the head of his own record label, Ritenour had new responsibilities which resulted in his withdrawal from Fourplay at this time.

Larry Carlton, known as a "musician's musician" and a "guitarist's guitarist", celebrated his 30th anniversary as a recording artist in 1998. His varied and stellar career includes more than 100 gold albums, two Grammy Awards, an Emmy nomination, etc.

Anyway, their fourth album (and the first album from the new Fourplay project), titled "4," also made its debut at No.1 on Billboard Top Contemporary Jazz Albums charts as of June 27, 1998. In October, 1999, Fourplay released "Snowbound," their first ever collection of holiday music, on Warner Bros. Records. On August 22, 2000, Fourplay released their fifth record of original material, titled "Yes, Please!," in the US. The album also reached No.1 on the Billboard's Top Contemporary Jazz Album chart. In 2001, "Yes, Please!" was nominated as in the category of Best Contemporary Jazz Album at the 43rd Annual Grammy Awards.

Early in 2002, members of Fourplay have signed their new contract with BMG's adult music division, the RCA Victor Group's Bluebird label. On July 23, 2002, Fourplay released "Heartfelt", its debut on the BMG/Bluebird label in the US. The group toured the US in support of the album "Heartfelt." Following the US tour, the group performed in Korea and Japan. On June 22, 2004, Fourplay released "Journey" in the US. The group is currently touring the US in support of the album "Journey."

Thus, each of Fourplay's members has an exceptional solo career and recording commitments but they always set aside time to work together as Fourplay. The group established a solid reputation and their own highly identifiable and accessible sound. Lastly, I recommend "Best of Fourplay" as a good introduction to Fourplay. However, for the best representation of the music of the "new" Fourplay project, check out their latest album "Journey".