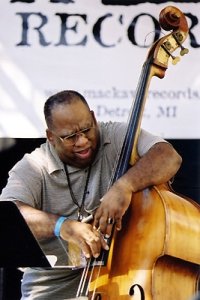 Charles Fambrough - Born August 25, 1950
In his 35 year career, legendary Philadelphia bassist Fambrough has played with McCoy Tyner, Grover Washington, Jr., Art Blakey, Flora Purim Airto, and many others.

A prolific composer whose works have been recorded by giants such as Stanley Turentine, Roy Hargrove and The Jazz Messengers. Fambrough's love for contemporary African-American, Latin and Brazilian music has been evident since his first recording as a leader entitled: The Proper Angle.

One of Charles Fambrough's stated goals is "Not to mix my concept of music with a monetary attitude... My view of music is toward people like 'Trane and Miles that I aspire to."

He is a consummate musician who refuses to confine his creativity to the jazz mainstream. The result is a highly personal style which seldom fails to draw raves from audience and critics alike.

Best-known for his stint with Art Blakey's Jazz Messengers, bassist Charles Fambrough has led three very effective all-star dates for CTI that were filled with his stimulating originals. He originally studied classical piano but switched to bass when he was 13. In 1968, Fambrough began playing with local pit bands for musicals and after some freelancing in 1970, he joined Grover Washington, Jr.'s band, staying with the popular saxophonist up until 1974. Fambrough was with Airto (1975-1977), McCoy Tyner (1978-1980), and then Art Blakey (1980-1982). Since that time, he has freelanced in many different situations. Fambrough's sidemen on his CTI recordings have included Wynton and Branford Marsalis, Roy Hargrove, Kenny Kirkland, Jerry Gonzalez, Steve Turre, Donald Harrison, Kenny Garrett, Abdullah Ibrahim, and Grover Washington, Jr.