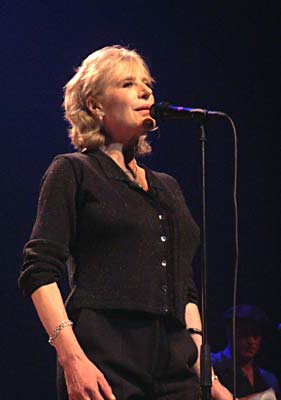 Born: December 29, 1946
Birthplace: Hampstead, London, England

Marital Status: Divorced
Husband #1: John Dunbar, married 1965-1970
Husband #2: Ben Brierly, married 1979-mid'80s
Husband #3: Giorgio Dellaterza, married 1988-?

Children:
Nicholas Dunbar, born November 10, 1965

It's been over 25 years since Marianne Faithfull and Mick Jagger's intense love affair ended. She's been a successful recording artist and a critically acclaimed actress, achieving fame and a notable career in her own right. But she'll still be best known as "the former girlfriend of Mick Jagger."

Why? When "Swinging London" was the center of the European music universe in the mid-to-late '60s, Marianne Faithfull was the unofficial queen of the scene. The Beatles and the Rolling Stones were the biggest bands in the world, but the Beatles' wives and girlfriends didn't caught in a drug bust naked (except for a rug) in a roomful of naughty men from the music scene. Marianne Faithfull did. That incident, the infamous 1967 Redlands bust at Rolling Stone guitarist Keith Richards' house, caused a scandalous sensation that will forever be mentioned in association with Marianne Faithfull.

Marianne was one of the goddesses of the music scene's full-fledged plunge in the sexual revolution. Her beauty and talent were admired and envied by many. Marianne left her first husband, John Dunbar, for Mick Jagger, and Marianne and Mick's relationship was considered the epitome of sex, drugs, and rock & roll. Her lifestyle was a far cry from the angelic image she portrayed when she recorded her first big pop hit, "When Tears Go By," written by Mick Jagger and Keith Richards. After all, Marianne went to school in a convent; she came from a well-to-do, educated background. If ever there was a case of a "good girl gone bad," this was it.

In her autobiography (1994's "Faithfull"), Marianne admits she was stoned during most of her relationship with Mick. And she says although she loved Mick, she also revealed that she and Mick were really in love with the same person: Keith Richards. By many accounts, including Marianne's, she and Keith had sex in a one-night stand, but Keith and Mick never had sex. (For the record, Keith claims he and Marianne never had sex.) This being the "swinging '60s," Marianne also slept with other members of the Stones camp, including Brian Jones and Anita Pallenberg (Keith Richards' longtime girlfriend), who was also involved in love affairs with Brian and Mick.

By 1969, the death of Brian Jones, Marianne's suicide attempt, the miscarriage of her and Mick's child, infidelities, fame, and the ever-present drugs all effectively combined to shatter the relationship between Marianne and Mick. Marianne continued on a downward spiral in the 1970s as she became a notorious drug addict, with heroin her drug of choice. At one point, she was living on the streets. Throughout the years, Marianne continued to record sporadically, with her most critically acclaimed album to date being 1979's "Broken English." She still goes out on concert tours and does occasional interviews.

Official Homepage: www.mariannefaithfull.org.uk