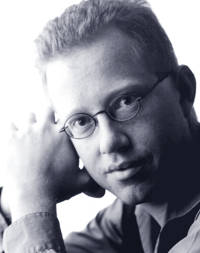 The piano player Michael Flügel was born in 1970. He started playing piano at the age of 6. First classical trained he changed to jazz music at the age of 16. He participated in several jazz clinics like the Attila Zoller Jazzworkshop in Vermont, USA and others. There he was educated by teachers like Harold Danko and Armen Donalian. Music studies at the conservatories in Hannover and Würzburg.

He first professionally played with musicians like Roman Schwaller, Allan Praskin, Wolfgang Haffner etc. in Bavaria/Germany. As a member of the Lutz Häfner Quartet he was invited to play several EUROPEAN JAZZ COMPETITONS like in Bilbao, Leverkusen and Hoeilaart. In 1998 he started touring in Germany and Europe with musicians like Ingrid Jensen and Lutz Häfner (May 19th - May, 26th 1998), Enrico Rava (November 1998) and Tim Hagans (28th of November - 4th of December 1998). 1999 he joined the Leszek Zadlo Ensemble.

From 19th - 31st of October 1999 he was on tour again with ENRICO RAVA.
Selected clubs will be: Regensburg - Leerer Beutel; Stuttgart - Jazzfestival im Merlin, Neuburg a.d.Donau - Birdland; Nürnberg -
Jazzstudio; Würzburg - Omnibus; BR-Studio Franken; Kassel - Schlachthof; Hamburg - Birdland