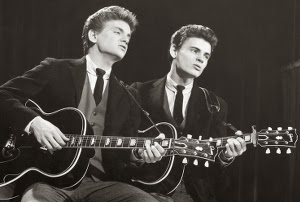 The Everly Brothers were American country-influenced rock and roll singers, known for steel-string guitar playing and close harmony singing. The duo, consisting of Isaac Donald "Don" Everly (born February 1, 1937) and Phillip "Phil" Everly (January 19, 1939 – January 3, 2014), were elected to the Rock and Roll Hall of Fame in 1986 and the Country Music Hall of Fame in 2001.

Don was born in Brownie, Muhlenberg County, Kentucky, in 1937, and Phil two years later in Chicago, Illinois. Their parents were Isaac Milford "Ike" Everly, Jr. (1908–1975), a guitar-player, and Margaret Embry Everly. Actor James Best (born Jules Guy), also from Muhlenberg County, was the son of Ike's sister. Margaret was only fifteen when she married Ike, who was twenty-six. Ike had worked in the coal mines from the age of fourteen, but his father hoped he would do something else with his life and encouraged him to pursue his love of music. Fortunately, that love was one Ike and his new bride Margaret shared, and they soon began singing together. The Everly Brothers spent most of their childhood in Shenandoah, Iowa. They attended the Longfellow Elementary School in Waterloo, Iowa for a year, but then relocated to Shenandoah in 1944, where they remained through early high school.

Ike Everly had a show on radio station KMA and later KFNF in Shenandoah in the mid-1940s, first with his wife, and then with their two young sons. When the brothers were invited by their parents to sing on the radio, they were then known as "Little Donnie and Baby Boy Phil." Singing on the show gave the brothers their first exposure to the music industry. The family sang together and lived and traveled in the area singing as the Everly Family. Ike, with guitarists Merle Travis, Mose Rager, and Kennedy Jones, was honored in 1992 by the construction of the Four Legends Fountain in Drakesboro, Kentucky.

The family next moved to Knoxville, Tennessee in 1953, where the brothers attended West High School. In 1955, the family moved to Madison, Tennessee, while the brothers moved to Nashville, Tennessee. Don had already graduated from high school in 1955, and Phil attended the Peabody Demonstration School in Nashville, from which he graduated in 1957. Having both finished high school, they could now focus on their pursuit of a recording career.