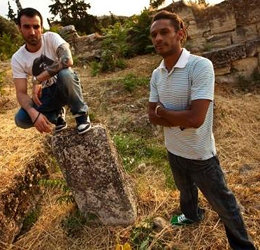 Disco Hooligans are two old friends that share a passion for psy-trance. Met more than a decade ago on the psychedelic dance floors and after many years of partying across the globe, we've finally started to produce our own tunes, at the beginning of 2008.

Inspired by the raw psychedelic riffs of the good old days, yet adding a twist of tomorrow's production techniques, we have just finished our first album "Clear Skies", soon to be released on Ektoplazm Records.

Influenced by the likes of Kox Box, Etnica, Dado, Tristan, Dino, Bamboo Forest, X-Dream, Transwave, Total Eclipse, Logic Bomb, Cydonia to name but a few, we have just started our quest to discover our own sound. We hope for you to join us in this journey. See you on the dancefloor.

The notorious Disco Hooligans (Nectarios Meidanis & Jordan Bonyo) return with their eagerly-awaited sophomore album, Darjeeling Express. Since thundering onto the international stage with last year's Clear Skies, their impressive debut album, Jordan and Nectarios have been hard at work refining their upbeat and life-affirming brand of psychedelic trance.

The result is an exhilarating blend of full-on energy and progressive grooviness distinguished by big beats, fat bass lines, and crystal clear melodies. Hop aboard and take a ride on the Darjeeling Express! Mastered by Colin Bennun at the Stooodio, Bristol, UK, with cover artwork by Amalia Makri.

Jordan, Nectarios