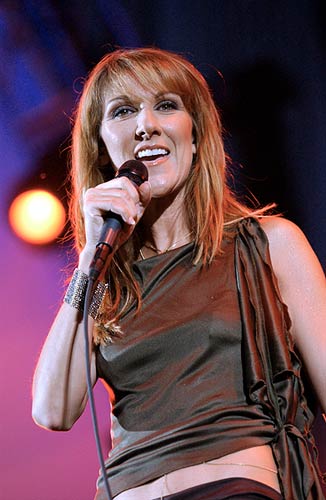 From humble beginnings in a rural French Canadian home town, Céline Dion has risen to international superstardom like a shooting star. Céline has been called the premier contemporary pop vocalist of the Nineties. She has earned music industry accolades from around the world: Grammy Awards in the US, Juno and Felix Awards in Canada, and World Music Awards in Europe. The entire world has seen Céline Dion literally transform herself from a gifted pre-adolescent into an international superstar.

Born in Charlemagne (a small town 30 miles east of Montreal, Quebec, Canada), Céline is the youngest of 14 children of a highly musical family. Her parents, both musicians, operated a small club, and on weekends, the entire family performed and entertained the local population. From the tender age of 5, Céline sang with her siblings and quickly acquired the ability to perform live. At the age of twelve, together with her mother and one of her brothers, Céline composed a French song which would forever alter the course of her life. The demo tape containing the song was brought to the attention of René Angélil, a well respected personal manager. In January 1981, René was so taken by the voice of the young Céline, that he became determined to make her an internationally known talent - he even mortgaged his house to finance the recording of Céline's debut album! Céline began to receive recognition for her talent in 1982, winning the Gold Medal at the Yamaha World Song Festival in Tokyo, along with the coveted Musician's Award for Top Performer. In 1983, she became the first Canadian ever to receive a Gold Record in France. The streak of recognition had only just begun.
By 1988, Céline had established a strong name for herself in her native province of Quebec, where she was enjoying superstar status, receiving numerous Felix Awards and racking up platinum albums. That same year, Céline won the prestigious Eurovision Song Contest in Dublin Ireland, where she performed live before a television audience of 600 million viewers throughout Europe, the USSR, the Middle-East, Japan, and Australia. Céline's international breakthrough came when she recorded the title track for the soundtrack to the animated Disney hit movie 'Beauty and the Beast.' The song went to number one and garnered an Academy Award and a Grammy Award. ''Beauty and the Beast'' formed the cornerstone for Céline's second English language album, called simply 'Céline Dion.' That album produced four more hit singles including ''Love Can Move Mountains,'' ''Water From The Moon,'' ''If You Asked Me To'' and ''Did You Give Enough Love.'' In Canada, the album went six times platinum and set the stage for an incredible streak of Juno Awards. Blessed with one of popular music's great voices, she has crossed all barriers - even that of language - with her electrifying series of international hits. With her breakneck pace of recording, video shoots, touring and appearing on TV shows and awards specials, it seems like Céline has time for little else. Not the case when it comes to an important cause. Céline has used her talents to further the cause of the Canadian Cystic Fibrosis Foundation. In fact, one of Céline's most emotional songs (''Vole,'' from the 'D'eux' album, later translated into English as the song ''Fly,'' which appears on the 'Falling Into You' album) is a touching memorial to her niece, Karine, who was taken from her by this disease.
A new peak in Céline's spectacular career was reached when she released her new album 'A New Day Has Come' in March 2002, which ended her two-year hiatus. The album entered number one in more than 17 countries, including Australia, Austria, Canada, Finland, France, Italy, Norway, United Kingdom, and the United States within two weeks of its debut. It features new tracks that range from pure 21st century pop, ''A New Day Has Come'' to dramatic ballads ''Have You Ever Been In Love'' and ''I Surrender,'' from breathtaking dance music ''Sorry For Love'' to a pair of pre-rock classics ''At Last;'' and ''Nature Boy.'' Other highlights include ''I'm Alive,'' ''Goodbye's (The Saddest Word),'' and ''Rain, Tax (It's Inevitable).'' The release of the album was accompanied by a blitz of TV specials, appearances on talk shows and magazine interviews all over the world. In March 2003, Céline begins a three-year commitment to appear five nights a week at Caesars Palace Coliseum in Las Vegas, a three-tier, 4000-seat arena designed and currently being built for her show. The 90-minute spectacle will introduce a new form of entertainment, a fusion of song, performance art, theatrical innovation and state-of-the-art technology that will inspire its own creative genre. The show is created by Dragone Productions, a team led by Franco Dragone, the creative spirit behind ten of the critically acclaimed productions by Cirque du Soleil. With each new release, Céline has managed to top her previous successes and, along the way, has become one of the brightest stars in the world of popular music. Who would have imagined that Quebec's best kept secret could have conquered the world the way she has? Looking back now, we should have known it all along.
Official site: www.celinedion.com