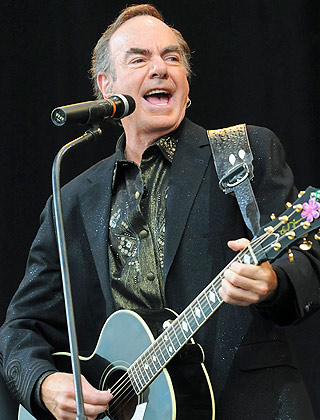 In the winter of 1941, January 24 to be exact, Neil Leslie Diamond was born. He grew up a life just as most other boys, but at the age 16, Neil recieved a guitar for his birthday. That gift, would forever change his life. Neil Diamond wrote his first song for his girlfriend. The title of the song was "Hear them bells" he never thought about recording it at the time, and didnt record it till many years later. At age 18, Neil wrote the song "Blue Destiny" it was Diamond's fifth song that he wrote. Neil was going to hit the big time, but it would take 8 more years before that moment. In 1962, Neil Diamond signed with Columbia Records. The song he was signed for was "At Night" which wasnt a big hit to say the least. But in 1966, Neil made his big break. His first hit was "Solitary Man". It is written in a minor key, and has a famous chorus. Neil Diamond then came out with Cherry Cherry, which to this day remains a famous tune. It rose to number 6 on the billboard charts. Its just a happy "care-free" style song. Later in 1966, he wrote the song that would stay in the number one position on the billboards for longer then any other song. That song was "I'm a Believer". The song recieved the most success with its original singers, "The Monkees". Neil did record the song later though. In 1967, Neil Diamond wrote "Red, Red Wine". It was written as a country ballad, and didnt recieve much fame on the billboards. But it was in 1988 that UB40 recorded the song and made it a hit, singing it in Raggae style. Neil Diamond made a big move in 1968, he was at a dispute with Bang Records, who werent exactly enthusiastic about his upcoming song "Shilo". So he moved to MCA records, shilo was on the billboards, even though not high. But it remains the favorite song for many of his fans. "Brooklyn Roads" was another song that was written more for Neil then for the audience. It was a very personaly song.
1969 came, and Neil wrote 3 blockbusters. "Sweet Caroline" was the most popular, peaking out at #4 on the billboard charts. The song starts with a calm beginning, but the whole song is a "build up" to its chorus. Neil's song "Holly Holy" is another song with a long and exciting build up. It rose to #6 on the billboards. Then came a song, that althought it never reached the top 20, is as famous as Sweet Caroline or Holly Holy, it was "Brother Love's Traveling Slavation Show". It was a song about a preacher, and in his live perfomances, his charisma raised the level of excitement dramatically. Watching him sing Brother Love, probably made people wonder if Neil used to be a preacher! Neil Diamond wrote several "unique" songs, two of them were "Cracklin Rosie" and "Crunchy Granola Suite". The first one was inspired by his trip to an Indian reservation, and if your wondering, Cracklin Rosie is wine. Crunch Granola Suite was inspired because he was impressed with health food, and probably enjoyed it so much he just wanted to write a song about it. Well whatever the case, they did well. And Cracklin Rosie rose to #1 on the billboards. Neil Diamond could record very emotional songs as well, he probably wrote more of them then "fun" songs. "He Ain't Heavy....He's My Brother" is an example of this. Neil recorded this song in 1970, this was one of the few he actually did not write. It has a wonderful message, and shows that he could be a plain singer and be successful. "I Am....I said" took him 4 months to complete, unlike some songs he wrote in a day. The song (I Am I Said) was a very emotional song, that rose to #4 on the billboards. In his "In My Lifetime" notes, he says it was one of the most satisfying he has ever written.
Song Sung Blue was a simple tune, and a simple message. Neil probably didnt think it would have the success it did, but sure enough, it rose to the #1 position on the billboards. Its just a simple song, but has a good message, mabye thats why so many people like it? Neil Diamond was offered the opportunity to write "Jonathan Livingston Seagull" for the soundtrack for the movie based on the book of the same name. It truly shows Neil's talent, from the beautiful prologue, which sounds like a classical peice written by one of the masters, to the country-style "Skybird" and the triumphant conclusion with "Be". The end of the 70's drew near, and Neil's only big song since 1971 was Longfellow Serenade. (If you look at billboards, he still had some great peices.) Well he went out of the 70s with a bang. Composing "Desiree", "September Morn", and "Forever In Blue Jeans". Desiree is best known for its beat, it has beautiful rythm. Forever in Blue Jeans has the forgotten message that money isnt everything in life, its the little things that are whats important. Neil Diamond composed "You Don't Bring Me Flowers" in 1979. It was originally written for a solo recording. But when Barbra Streisand recorded the song, radio stations started mixing the two versions together. So he and Barbra recorded a version that was meant to be a duet, and it rose to #1 on the billboard charts. Not a bad way to go out of the 70s!
Perhaps the greatest display of Neil Diamond's talent, was in his movie "The Jazz Singer". Neil was to remake the movie that had already been remade in 1951 from the original in the 1920s. It was certainly a difficult task, and with so much singing involved, he would need new songs. But did this slow him down? Not one bit! He wrote 3 of perhaps his greatest songs for the ablum. They were "Love on the Rocks", "Hello Again" and "America". Each of these songs reached the top 10 on the billboard. Love on the Rocks is in a jazz style, with a strong chorus in the middle. Hello again is pretty similiar the whole way through, its just a nice love song. America, is one of Neil's most famous songs, its hard to tell which portion of the song is the main portion, because it keeps moving on, its an up-tempo song with a great message, and that is about this great country. With these 3 hit songs, the Jazz Singer sold over 6,000,000 copies of its soundtrack. Neil has recorded over 40 albums, and recorded over 100 songs that he has written. His style is hard to pin point, it varies from a waltz, to classic rock and roll, to a piano and singer gig, to even a harder beat. But he never "changes" his style. After writing "Headed for the Future" a very heavy song, he wrote "Hooked On The Memory of You" which is a very calm song. He has never compromised his music, it is very similiar today as it 30 years ago. Even though many peole will tell you Neil never gets the fame or credit he deserves, he is still widely known, and remembered. He may be remembered for "Sweet Caroline", "America", "Brother Love" or "You Dont Bring Me Flowers", but one thing is sure: He was, and is, a musical prodigy!