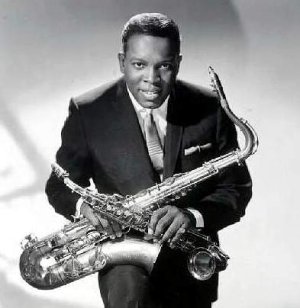 Curtis Ousley (February 7, 1934 – August 13, 1971), who performed under the name King Curtis, was an American tenor, alto, and soprano saxophonist who played rhythm and blues, soul, rock, and soul jazz.
Curtis was born in Fort Worth, Texas. During the 1950s and early to mid 1960s he both worked as a session player on such records as Yakety Yak and recorded his own singles. His best known singles from this period are "Soul Twist" (Enjoy) and "Soul Serenade" (Capitol). In 1965 he moved to Atlantic Records, where his most successful singles were "Memphis Soul Stew" and "Ode to Billie Joe." He led Aretha Franklin's backup band, The Kingpins, and produced records, at first with Jerry Wexler and then by himself.
Curtis guested on John Lennon's Imagine and was capable of attracting the best session musicians to put in appearances for his own albums, including guitarist Duane Allman on Instant Groove and organist Billy Preston on Live At Fillmore West. Curtis did venture to the Fame and American studios, but he preferred to work in New York. "In the south you have to restrain yourself to make sure you come back alive".
King Curtis' "Whiter Shade of Pale" plays during the beginning of Withnail and I, and was chosen as a symbol of the end of 1960s idealism. His Saxophone solo of the song "When a man loves a woman", originally sung by Percy Sledge, is an example of his virtuosity.
On Saturday August 14 1971, at the height of a New York heat wave, King Curtis was carrying an air conditioner unit into his apartment at 50W.86th St. He found his access blocked by two men administering drugs to themselves. He asked them to move, there was a scuffle, and one of the men, later identified as Juan Montanez, stabbed King Curtis in the heart with a knife. Curtis was hurried to Roosevelt Hospital, but was dead on arrival. The funeral was held four days later. As the mourners filed in, Curtis' Kingpins played an hour long version of 'Soul Serenade' and a number of musician got up to play. Jesse Jackson preached the service, and Stevie Wonder, Aretha Franklin, Cissy Houston, Brook Benton and Duane Allman were among those attending. Aretha sang the closing spiritual , 'Never Grow Old'. The Atlantic Records office closed for the day.
Curtis was inducted into the Rock and Roll Hall of Fame on March 6, 2000.