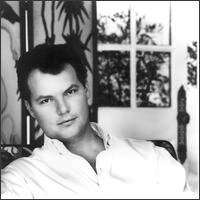 Christopher Cross (born Christopher Geppert on May 3, 1951 in San Antonio, Texas) is an American singer and songwriter. Cross first played with an Austin-based cover band named Flash before signing a solo contract with Warner Bros. He is best known for composing Arthur's Theme (Best That You Can Do) from the Dudley Moore film Arthur which won the Oscar for Best Original Song in 1981 (with co-composers Burt Bacharach, Carole Bayer Sager and Peter Allen.)
Cross released his self-titled debut album Christopher Cross in 1979 which garnered him 5 Grammy Awards. He is, along with Norah Jones, the only artist to receive all of the "Big Four" Grammy Awards (Best Record, Song, Album, and New Artist) in the same year. Hits from this album included Sailing, Ride Like the Wind and Never Be the Same. His second album, Another Page, which came out in 1982, included the hit songs Think of Laura and All Right.
Many people associate Think of Laura with the Luke and Laura plotline of the soap opera, General Hospital, which was very popular at the time, but it was actually written about a friend of Christopher's girlfriend at the time (named Laura) who had recently been killed by a stray bullet while riding in the back of a car.
The Family Guy character Chris Griffin is thought to be named after Cross, with his full name being "Christopher Cross Griffin".

Christopher Cross performed the song Sailing alongside the pop band Nsync at the Fourth Annual Blockbuster Awards in 1999.
Awards

Academy Award for Best Song, 1981, Arthur's Theme (Best That You Can Do)
Golden Globe Award for Best Original Song, 1981, Arthur's Theme (Best That You Can Do)